Operation Samudra Setu, repatriation flights bring back thousands of stranded Indians
Several Indians from across the world were repatriated on Sunday; more arrivals are expected today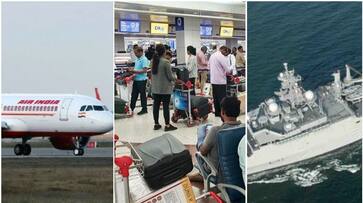 Mumbai: A total of 178 Indians left Doha for Kochi, in the southern Indian state of Kerala, Saturday evening aboard the first repatriation flight from Qatar.
INS Jalashwa, carrying as many as 700 Indian nationals from the Maldives as part of the Operation Samudra Setu of the Indian Navy, arrived at the Kochi Port on Sunday.
The first batch of 572 Indian nationals, who were stranded in the United Kingdom, also landed at the Chhatrapati Shivaji Maharaj International Airport in Mumbai early on Sunday morning. The passengers were thermally screened before being sent for quarantine to 88 hotels across the city.
Another flight from Singapore to Mumbai is scheduled to land later today.
A spokesperson for Mumbai International Airport Limited said several more flights will repatriate as many as 2,350 nationals from the UK, US, Singapore, Malaysia, Bangladesh and Philippines over the next week beginning Sunday. In addition, six transit flights will also pass through Mumbai.
Late on Saturday, two Air India flights landed in Hyderabad and Lucknow, bringing back citizens from Kuwait and UAE's Sharjah, respectively. Another set of 177 stranded nationals were brought back to Tamil Nadu's Trichy from Kuala Lumpur in Malaysia. A repatriation flight from Dhaka had also arrived at the national capital.
Through the Vande Bharat Mission, India will send 64 flights and three Navy ships to repatriate Indians stranded abroad due to the coronavirus pandemic. Nearly 15,000 Indians are expected to return home over the next week. 
Last Updated May 10, 2020, 6:12 PM IST