'Only 52 hours for...': Comedian's amusing analysis of Narayana Murthy's 70-hour work week tip (WATCH)
In the Instagram reel shared, comedian Vivek Muralidharan took on the daunting task of dissecting what this intensive work schedule 'really' means. He cheekily requested a phone from the audience to perform the calculations right then and there.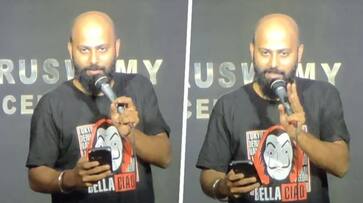 When Infosys co-founder N R Narayana Murthy said that young people should work 70 hours a week to increase the nation's output, it caused a stir on social media. His words spurred a national conversation that drew vehement condemnation as well as support. While some people on the internet are busy producing memes and cracking jokes about the subject, other well-known business executives are also offering their opinions on the matter.
A comedian attempted to decipher the idea and perform the necessary calculations to determine the viability of the proposition. Comedian Vivek Muralidharan recently deconstructed the rigorous work schedule in a funny way by figuring out how many hours are needed for work and other responsibilities. 
Also Read | Noida: Retired IAS officer, woman get into heated dispute over allowing dog in lift (WATCH)
To begin his performance, he asked the audience to lend him a phone so he could figure out how many hours a person would work and how much time they would have for "everything else." In the end, he calculated that each individual would only be allowed to have 24 hours of personal time per week, or 52 days annually. 
''Work-life balance friends," he captioned the video on Instagram. 
His sense of humour delighted some users, but others drew attention to the fact that the hours one would have for themselves would be further diminished by the time it took to get to work. 
Speaking on a podcast, Narayana Murthy noted that India has among of the lowest rates of labour productivity in the world and urged young people to help create a culture that will enable India to effectively compete on the international arena. Additionally, he drew comparisons between Germany and Japan, two nations that adopted longer working hours following World War II. 
Also Read | Apple must explain why threat notifications are sent; Govt will probe: MoS Rajeev Chandrasekhar
Last Updated Oct 31, 2023, 6:35 PM IST