Apple must explain why threat notifications were sent; Govt will probe: MoS Rajeev Chandrasekhar
MoS Electronics & Technology Rajeev Chandrasekhar emphasized the Indian government's commitment to citizen privacy and announced an investigation into the notifications and Apple's device security claims. This development follows a controversy involving political leaders alleging hacking of their Apple devices.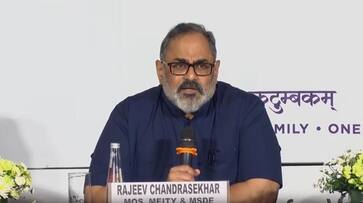 Following claims by Opposition leaders and geopolitical experts about receiving 'threat notifications', Union Minister of State for Electronics & Technology Rajeev Chandrasekhar has asked Apple to explain why such 'threat notifications' are sent to people in over 150 countries. The minister said that explanation was needed considering Apple has repeatedly claimed their products are designed for privacy and their devices are secure. On his part, Chandrasekhar said: "Our government is committed and duty-bound to protect the privacy of our citizens and we take this responsibility very seriously."
Apple on hacking claims: We do not attribute threat notifications to any specific state-sponsored attacker
"The government will investigate these threat notifications and also Apple's claims of being secure and delivering privacy-compliant devices," the minister said on social media platform X (formerly Twitter).
Speaking to media persons earlier in the day, the minister said that Apple needs to explain whether their devices are safe or not. "Either they are secure and this is a false alarm, or if they are not secure then the onus is on them to explain what this state-actor that they are notifying. This is a government that takes the matter of privacy of citizens very seriously," he told a television news channel.
The remarks came after a major faceoff erupted between the ruling party and the opposition leaders regarding alleged phone hacking, Apple has officially stated that it does not attribute the threat notifications to specific state-sponsored attackers. In an official statement, Apple emphasized that state-sponsored attackers are well-funded, sophisticated, and constantly evolving their attack methods. Detecting such attacks relies on incomplete threat intelligence signals, making false alarms and undetected attacks possible.
Apple also highlighted its inability to disclose the exact reasons for issuing threat notifications, as this could help state-sponsored attackers adapt and evade detection in the future.
Numerous political leaders, including TMC MP Mahua Moitra, Congress members Pawan Khera, Shashi Tharoor, Rahul Gandhi, and AAP MP Raghav Chaddha, claimed their Apple devices were hacked and shared screenshots of the warning notifications. They alleged government involvement in these hacking attempts.
Rahul Gandhi, while responding to the allegations, expressed his lack of concern about phone tapping, asserting that he and his party were unafraid. In response to the allegations, Amit Malviya, BJP IT cell head, cited Apple's clarification that similar notifications were sent globally, reaching users in around 150 countries, without any specific reasons provided. Malviya considered the opposition's claims of government involvement baseless and suggested that such allegations were a diversion tactic due to the lack of substantial issues to challenge the government.
In essence, Apple's statement addressed the controversy surrounding alleged phone hacking and the subsequent political allegations, emphasizing the challenges in attributing such attacks and the global nature of these notifications.
Last Updated Nov 1, 2023, 8:57 AM IST