Onam Bumper 2023 lottery: Man killed by friend in Kerala's Kollam over ticket
A Kollam man was allegedly killed by his friend after an altercation and verbal dispute over an Onam bumper lottery ticket on Wednesday (Sep 20). The results were announced today.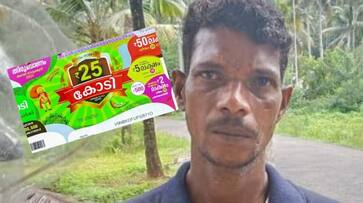 Kollam: In an appalling incident, a man allegedly killed his friend on Wednesday by hacking him after a fight over an Onam bumper lottery ticket. Devadas (42), a resident of Thevalakkara, was killed. His friend Ajith was taken into police custody.
The Thiruvonam lottery ticket was taken by Devdas and given to Ajith for safekeeping. Devdas requested Ajith's lottery ticket prior to the draw. Concerning the ticket, there was a dispute. Ajith slashed Devdas' hand during the verbal dispute. Due to wounds and blood, Devadas died. Both of them are friends and loggers. 
Also read: Onam Bumper 2023 Result announced: Check mega lottery prize winners
Meanwhile, the Government of Kerala on behalf Lottery Department declared the "Thiruvonam Bumper BR 93 Result ". Kerala Lottery Result 2023 for Onam Bumper BR.93 was drawn today (Sep 20) in Gorky Bhavan Near Bakery Junction Thiruvananthapuram at 2 pm. The first prize worth Rs 25 crore was won by the ticket number TE 230662. The winner will receive around Rs 17.5 crore after a 30 per cent income-tax deduction.
Twenty people will receive the second prize of Rs 1 crore each and 20 will be awarded the third prize of Rs 50 lakh respectively. The fourth prize of Rs 5 lakh each will be given to 10 people.
Out of the 85 lakh tickets printed, 74.51 lakh tickets were sold till Tuesday evening.
Last Updated Sep 20, 2023, 9:19 PM IST