Nihang brutality at Singhu border: Latest developments in the murder case
Two more Nihang Sikhs have surrendered before the Haryana Police in connection with the case.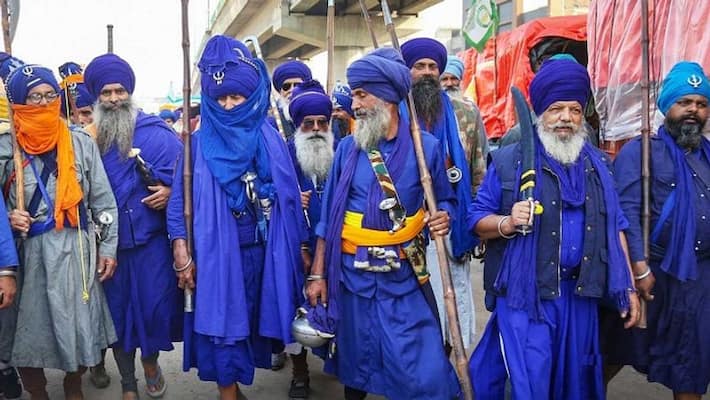 The gruesome murder of a person at the farmers' protest site at the Singhu border had sent shockwaves across the country. 
Here are the latest developments in the case:
* All three accused in the Singhu border murder have been sent to six-day police custody.
* Two more Nihang Sikhs have surrendered before the Haryana Police in connection with the case. The two accused who surrendered late Saturday evening were identified as Bhagwant Singh and Govind Singh. The victim, identified as 35-year-old Dalit labourer Lakhbir Singh, was tied to a police barricade at Singhu with his left wrist and right leg cut off.
* Videos of their surrender showed the two men in garlands being escorted by the Nihangs amid chants. The Sikh warrior group had claimed responsibility for the murder but sought to justify the act claiming that Lakhbir had desecrated their holy scripture Pothi Sahib.
* On Friday, a Nihang identified as Sarabjit Singh had surrendered and confessed to his role in the murder. Balwinder Singh, head of the Nirvair Khalsa-Udna Dal -- of which Saravjit was a member -- defended the killing stating that rather than approaching any police or administration, his group will treat whoever indulges in acts of sacrilege in this manner.
* The preliminary autopsy revealed 37 wounds on Lakhbir's body. The involvement of the Nihangs came to the fore after videos circulated on social media showed them standing around the grievously injured Lakhbir and not coming forward to help him. One of the videos showed them questioning the victim about the alleged desecration of the holy book. Based on the videos, a murder case was lodged at the Kundli Police Station in Sonipat.
* According to police officials, the victim's hand was chopped off. The victim's foot was also hacked, but it was not separated. Sarabjit, who confessed to the murder, said that after Lakhbir was caught by a group of people, he used an accomplice's sword to chop off Lakhbir's hand for his act of sacrilege. The police is yet to recover the sword.
Representative Image used
Also Read: Karnataka govt orders survey of churches
18-year-old Mridul Agarwal from Jaipur tops IIT JEE Advanced
Last Updated Oct 17, 2021, 4:14 PM IST