Newly elected Karnataka MLAs to take oath on December 22, Cabinet expansion likely
The newly elected MLAs are said to be inducted into the Karnataka Cabinet on December 22 with Speaker Vishweshwar Hegde Kageri administering their oath of office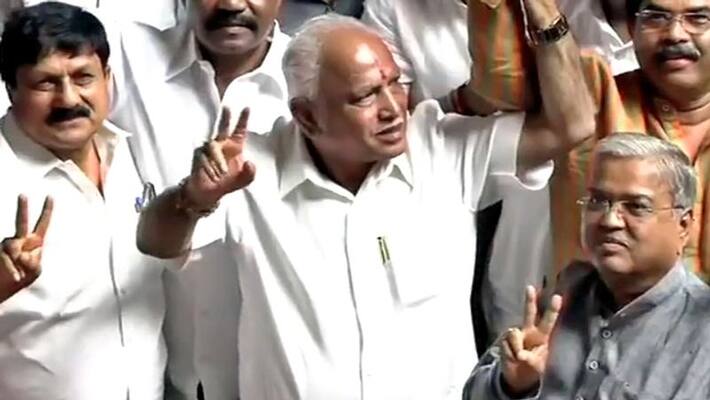 Bengaluru: The ruling BJP swept the by-elections in Karnataka, winning 12 of the total 15 seats, helping the four-month-old Yediyurappa government retain majority in the Assembly. Meanwhile two Congress candidates and independent candidate Sharath Bachegowda from Hosakote won the by-elections. 
Reportedly, the date for induction of victorious candidates of the BJP has been set. MLAs who emerged winners in the Karnataka bypolls will take oath on December 22. 
The swearing-in ceremony will be held at the Banquet Hall on December 22. Karnataka Speaker Vishweshwar Hegde Kageri will administer the oath of office to the newly elected MLAs. 
Reports are rife that Cabinet expansion will also take place on December 22 after the MLAs take oath. 
Meanwhile, lobbying has intensified for ministerial berths, by both BJP's old guards and new entrants. Yediyurappa has made it clear that 11 disqualified MLAs (of the total 13 fielded by BJP) who successfully contested and won the bypolls on party ticket, will be given ministerial berths. 
However, Cabinet expansion won't be smooth for Yediyurappa as he has to strike a balance by accommodating the victorious disqualified MLAs as he had promised and also make place for the old guards who are upset for being "neglected" in the first round of induction exercise.
Yediyurappa had earlier said that he had been asked to go to Delhi next week to discuss the Cabinet expansion exercise. He also said that BJP national president Amit Shah was busy with the Jharkhand Assembly polls and other matters. "I have already spoken to him. The Cabinet expansion will be done after December 20 or 22," he added.
Last Updated Dec 17, 2019, 12:31 PM IST