Nawaz Modi Singhania demands 75% of Gautam Singhania's fortune as settlement: Report
Raymond Ltd Chairman Gautam Singhania's estranged wife, Nawaz Modi Singhania, has reportedly sought 75 per cent of the billionaire industrialist's $1.4 billion net worth for herself and their two daughters, Niharika and Nisa.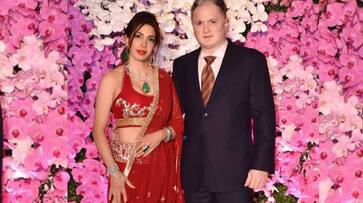 As part of a family settlement after the couple's divorce, Nawaz Modi Singhania, 53, the estranged wife of billionaire industrialist Gautam Singhania, has reportedly demanded 75% of his alleged $1.4 billion net worth for herself and her two daughters — Niharika and Nisa, Economic Times reported. 
Though it is said that Singhania has largely agreed to the demand, he has advised setting up a family trust and moving the family's assets to it, with him acting as the only managing trustee. 
In an attempt to ensure the financial security of their two children, Niharika and Nisa, her demand has already triggered conversations over the family's future asset allocation. As to the ET report, Gautam Singhania has suggested creating a family trust to oversee and distribute the family's assets, even though it is said that he is open to considering Nawaz's proposal.
Also Read | Amazon says employees may not get promoted if they ignore return-to-office mandate
Under his proposal, he would act as the sole managing trustee, and family members would be allowed to inherit the assets after his demise. However, Nawaz reportedly finds this arrangement unacceptable.
A settler, who gives assets to the trust; a trustee, who is in charge of administration; and a beneficiary are the three primary players under trust legislation. Gautam would play the dual roles of settler and trustee in his planned family trust.
The discussions, ongoing for several weeks, remain at an early stage, with no final decisions reached, added the report.
Also Read | OpenAI CEO Sam Altman's ouster rattles Silicon Valley: Decoding the impact and future of AI landscape
After 32 years of marriage, Gautam Singhania made public his separation from his wife by posting a message on the social networking site X. The couple's dedication to following distinct paths was emphasised in the statement, but it did not go into detail about the reasons for the split.
Nawaz Modi Singhania, besides being involved in the fitness industry with her chain of fitness centers called Body Art, serves on the board of directors of Raymond Ltd. 
Last Updated Nov 20, 2023, 3:04 PM IST