OpenAI CEO Sam Altman's ouster rattles Silicon Valley: Decoding the impact and future of AI landscape
Explore the unexpected termination of OpenAI's CEO Sam Altman, the ensuing leadership shakeup, industry reactions, and the potential impact on the AI landscape and generative technology.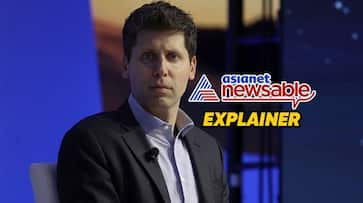 In a surprising turn of events, OpenAI, the company behind the launch of ChatGPT a year ago, on Friday announced the termination of its CEO, Sam Altman. The decision to remove Altman, backed by Microsoft, came as the company expressed a lack of confidence in his leadership abilities. Altman's unexpected dismissal has surprised the tech world, considering his influential role in the artificial intelligence revolution.
Altman publicly acknowledged his departure in a post on X, expressing gratitude for his time at OpenAI and recognizing the transformative impact the company has had. "It was transformative for me personally, and hopefully the world a little bit. most of all I loved working with such talented people. Will have more to say about what's next later," he said.
Why was Altman sacked?
The board of OpenAI, comprising OpenAI chief scientist Ilya Sutskever, Quora CEO Adam D'Angelo, technology entrepreneur Tasha McCauley, and Helen Toner from the Georgetown Center for Security and Emerging Technology, dismissed Altman following a review. The assessment revealed that Altman was found to be "not consistently candid in his communications" with the board, leading to his termination.
"The board no longer has confidence in his ability to continue leading OpenAI," a statement by the artificial intelligence company said.
The statement added that the young CEO's behaviour was "hindering" the board's ability to exercise its responsibilities.
"OpenAI was deliberately structured to advance our mission: to ensure that artificial general intelligence benefits all humanity. The board remains fully committed to serving this mission. We are grateful for Sam's many contributions to the founding and growth of OpenAI," the company wrote in its blog post.
Following the dismissal of Sam Altman, Mira Murati, the current chief technology officer of the company, has been appointed as the interim chief executive. Murati will fulfill this role until a permanent replacement is selected. Additionally, Altman will be stepping down from his position on OpenAI's board.
"Given her long tenure and close engagement with all aspects of the company, including her experience in AI governance and policy, the board believes she is uniquely qualified for the role and anticipates a seamless transition while it conducts a formal search for a permanent CEO," the company said in a statement.
Also read: 'Loved my time at OpenAI...' ChatGPT maker Sam Altman reacts after being fired
Public face of generative AI
Sam Altman, born on April 22, 1985, in Chicago, is an American entrepreneur and investor who stands as one of the foremost figures in the AI world. A pivotal force in the establishment of OpenAI, he played a key role in its foundation as a nonprofit research laboratory in 2015. 
Altman assumed the position of chief executive officer at OpenAI from 2020 to 2023. Notably, at the forefront of his contributions, he gained widespread recognition with the introduction of ChatGPT. This artificial intelligence chatbot showcased unprecedented capabilities, swiftly generating human-level content such as poems or artwork in a matter of seconds.
Previously, Sam Altman held the position of president at Y Combinator from 2011 to 2019. Notably, at the age of 19, he co-founded Loopt, a location-based social networking mobile application. Altman briefly served as the CEO of Reddit in 2014, stepping into the role for eight days following the resignation of CEO Yishan Wong.
Altman served as the public face of the burgeoning field of generative AI, leaving a notable impact on Silicon Valley. His departure from OpenAI had a significant ripple effect in the tech hub.
Generative AI, a facet of artificial intelligence, involves learning from historical data to generate new content, ranging from text and images to computer code.
Altman's influence extended beyond the boardroom, playing a pivotal role in OpenAI's growth. He became a prominent figure during the surge in generative AI, particularly after the successful launch of ChatGPT in 2022. This innovative application rapidly gained traction, evolving into one of the world's fastest-growing software applications.
Altman, a key executive, had been a vocal advocate for the responsible and safe advancement of highly sophisticated AI. His engagement with governments worldwide underscored his commitment to ethical AI development. With his departure, the landscape of AI leadership is undergoing a noteworthy transformation.
A serial entrepreneur and investor, Altman played a pivotal role as the face of OpenAI and the widely embraced generative AI technology. His global tours this year further solidified his prominence in the field.
Successful fundraiser
OpenAI has proven to be an exceptionally successful fundraiser, securing substantial investments totaling billions of dollars from strategic partners. Notably, Microsoft has played a significant role as a major contributor. Additionally, the company has received investments from prominent venture funds such as Sequoia Capital, Andreessen Horowitz, and Thrive Capital, led by Josh Kushner.
Recent reports suggest that Thrive Capital is preparing to spearhead a purchase of up to $1 billion in employee stock, placing OpenAI's valuation at an impressive $86 billion. These financial commitments underscore the substantial support and valuation that OpenAI has earned from key players in the technology and investment sectors.
Altman, a global game-changer
The fallout from the unexpected developments at OpenAI has yet to fully unfold, with immediate concerns arising about the company's fundraising prospects. Altman's departure raises questions about the organization's ability to secure investments, given his reputation as a skilled fundraiser who successfully navigated negotiations with Microsoft, resulting in billions of dollars in investments. Altman also played a crucial role in the company's tender offer transactions this year, contributing significantly to the substantial increase in OpenAI's valuation from $29 billion to over $80 billion.
Beyond fundraising, Altman's influence extended to talent acquisition in the competitive tech market, particularly in the field of AI engineering. His success in recruiting top professionals from major tech giants like Google and Microsoft was attributed to competitive compensation packages and the promise of involvement in cutting-edge technology at the forefront of world-altering advancements.
Sam Altman's net worth
Altman, following in the footsteps of tech titans like Bill Gates, Steve Jobs, and Mark Zuckerberg, made the decision to forego college in favor of establishing a tech startup. Despite not completing his college education, Altman achieved significant financial success, with his net worth estimated to be in the range of $500 to $700 million. This wealth is attributed to his entrepreneurial ventures and savvy investments, as reported by The Street.
The majority of Altman's net worth is intricately tied to his equity ownership in privately held companies, making it challenging to pinpoint his exact financial standing. The report notes that the companies he has led, founded, or supported collectively boast a total value of around $500 billion, underscoring the substantial impact of his contributions in the tech industry.
Also read: Decoding the role of ChatGPT algorithm in deepfake creation: Techniques, risks and countermeasures
Industry leaders reaction and what next
In the wake of the unexpected dismissal of high-profile CEO Sam Altman, who played a pivotal role in the creation of ChatGPT at OpenAI, the shockwaves reverberated throughout the industry. Compounding the surprise, Greg Brockman, the president and co-founder of OpenAI, has also announced his resignation. The technology and business sectors are now contending with the ripple effects of these recent developments.
Eric Schmidt, the former CEO of Google, expressed admiration for Sam Altman, referring to him as "a hero" and acknowledging his remarkable achievement in building a company from nothing to a valuation of $90 billion. Schmidt eagerly anticipated Altman's future endeavors, expecting them to have a profound and incredible impact on billions of people, as he shared on X.
"I can't wait to see what he does next. I, and billions of people, will benefit from his future work- it's going to be simply incredible. Thank you @sama for all you have done for all of us," he said.
Co-founder and CEO of Airbnb Brian Chesky extended his support to both Altman and Brockman and said he is 'saddened by what's transpired'. "They, and the rest of the OpenAI team, deserve better," he wrote on X (formerly Twitter).
Chris Anderson, Chief of TED, has drawn a parallel between the ouster of Sam Altman and Apple's decision to fire Steve Jobs, expressing his astonishment and calling for insights into the true story behind the development. "I'm stunned by this…Who has the real story? Please, we need to know," he wrote.
Aaron Levie, the CEO of Box, remarked that this is not a typical startup leadership shakeup. Instead, he emphasized that Altman's removal "instantly changes the structure of the industry."
"Nearly impossible to picture OpenAI without Sam and Greg. They made AI finally go mainstream after years of it never happening. Can't imagine what happens next," he added.
According to some analysts, the departure of Altman, though causing disruption, is unlikely to diminish the popularity of generative AI or compromise the competitive advantage held by OpenAI and Microsoft.
DA Davidson analyst Gil Luria, quoted by news agency Reuters, emphasized that the innovation generated by OpenAI surpasses the influence of any one or two individuals. Luria stated that there is no reason to believe that Altman's departure would lead OpenAI to relinquish its leadership position in the field.
Generative AI, trained on extensive datasets, possesses the capability to create entirely new, human-like content. This technology has proven valuable in assisting users with tasks such as composing term papers, completing science homework, and even crafting entire novels. Following the launch of ChatGPT, regulatory efforts were initiated to keep pace with the advancements in AI. The European Union amended its AI Act, and the United States took steps to regulate AI in response to the rapid development of generative AI technologies.
Last Updated Nov 18, 2023, 1:06 PM IST