Nava Kerala Sadas: Know the features of luxury bus provided to CM Pinarayi Vijayan, ministers
The luxury bus arrived in Kerala on Saturday, ahead of the Nava Kerala Sadas. Know the features of luxury buses for Chief Minister Pinarayi Vijayan and ministers.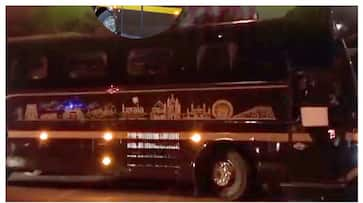 Thiruvananthapuram: There are so many controversies about the luxury bus sanctioned by the finance department for the Chief Minister and Ministers for Nava Kerala Sadas. The bus arrived in Kerala on Saturday, ahead of the outreach program.
Also read: Nava Kerala Sadas: CM Pinarayi Vijayan's luxury yatra bus arrives amid controversies
The bus is manufactured using a BharatBenz 1624 chassis. The bus has a 7200-cc engine with 240 horsepower and a fuel capacity of 380 liters. The chassis for the vehicle comes with an ex-showroom price of approximately Rs 38 lakh. The total cost is expected to be close to Rs 44 lakh in on-road expenses. The manufacturing cost of the body for these vehicles will vary based on the facilities provided. The vehicle is equipped with two doors at the front and back. Notably, additional features, including a washroom, have been incorporated into the design to enhance the overall functionality of the vehicle.
The bus is designed to accommodate 25 seats, and experts in the field estimate that the overall cost of the vehicle, including features and amenities, will surpass 45 lakhs. Remarkably, the government has allocated a budget of Rs 1 crore 5 lakhs for the bus, surpassing the current treasury restrictions. The responsibility for transforming it into a fully equipped passenger bus has been assigned to SM Kannappa, recognized as the top automobile group in South India. The bus's body was manufactured at Kannappa's factory located in Mandya, Karnataka. This initiative reflects the government's commitment to providing a well-equipped and efficient transportation solution.
Apart from this, external power sources, such as power generators or inverters, are permitted to be used when the vehicle is stopped. The concessions will be applicable only for the luxury bus launched for the Nava Kerala Sadas. A chair in the front row is allowed to rotate 180 degrees. The body of the bus depicts the unique cultural signs of Kerala. According to the special notification issued by the KSRTC Managing Director, various changes have also been made to the bus with special relaxation in the norms of the transport authority. This bus does not comply with the white color requirement for contract carriage vehicles.
Last Updated Nov 18, 2023, 10:39 AM IST