Nava Kerala Sadas: CM Pinarayi Vijayan's luxury yatra bus arrives amid controversies
The Kerala government's Nava Kerala Sadas will start today in Manjeshwaram constituency. A luxury bus worth Rs 1.05 crore has arrived in Kerala for the chief minister and ministers. The Director of the Public Education Department has issued an order stating that school buses can be provided upon request by the organizers of the program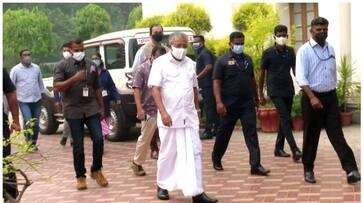 Kasaragod: The Kerala government's Nava Kerala Sadas will begin today in Kasaragod. The inauguration of the public outreach program is at 3.30 pm. A luxury bus has arrived in Kerala for the Chief Minister and Ministers to travel for the program amid controversies. The finance department of Kerala has released Rs 1.05 crore for a luxury bus. The bus reached Kasaragod this morning and was shifted to AR Camp.
Also read: Kerala CM's social media team's tenure extended again; expenses amount to over Rs 6 lakh per mont
As a part of Nava Kerala Sadas, a proposal has been made to allocate school buses for this purpose. The Director of the Public Education Department has issued an order stating that school buses can be provided upon request by the organizers of the program. However, the order specifies that the organizers are required to cover the fuel cost and driver's allowance associated with the provision of these buses.
Meanwhile, the government has issued a notification making concessions for the luxury bus for the Chief Minister and Ministers to travel in the Nava Kerala Sadas. Asianet News has received a copy of the notification issued by the Transport Department in this regard. The government issued an order amending the Contract Carriage Buses Act by making special concessions for buses. The notification has also given permission for a 180-degree rotation of seats in the front row of the luxury bus for the Nava Kerala bus. The color code given to contract carriage vehicles has also been relaxed for this bus only.
Apart from this, external power sources, such as power generators or inverters, are permitted to be used when the vehicle is stopped. The concessions will be applicable only for the luxury bus launched for the Nava Kerala Sadas. The government has issued a notification based on the recommendation of the Managing Director of KSRTC (Kerala State Road Transport Corporation). As per the mandate, contract carriage vehicles are now required to be white in color. However, it has come to light that additional concessions have been granted to the Nava Kerala bus, which is now authorized to sport a distinctive chocolate brown color.
Meanwhile, special concessions have been granted for bus and tourism services catering to VVIP purposes. Notably, 12-meter vehicles are exempted from these concessions. The government has additionally stipulated that these vehicles should be made available for sale upon the government's request. The transport department, which had earlier taken strict action against tourist buses in Kerala due to color codes and other modifications, has now given a special concession to luxury buses for the Nava Kerala Sadas of the government.
 
Last Updated Nov 18, 2023, 10:26 AM IST