Move aside Big B, Modi set to be mascot of 'Incredible India' campaign
PM Modi set to be mascot of 'Incredible India' campaign

No Bollywood actor will be engaged for the campaign aimed at attracting foreign travellers

Video footages of Modi during the last two-and-a-half years where he has talked about tourism in India and abroad, will be used for the campaign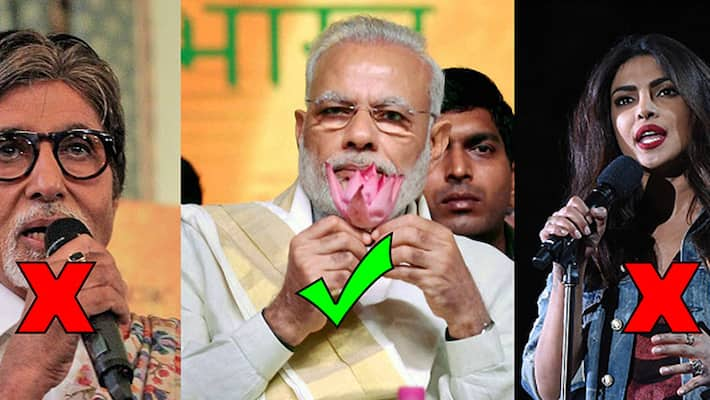 The ministry is planning to use - for video (rpt video) and audio release - two types of videos of different durations where Modi had talked about the uniqueness and diversity of the various places in the country, the official said.
    
At present, the ministry is "working on selecting the footages", the official said, adding that the campaign would be released in the next 40-45 days as the Indian 'tourism season' starts by November-end due to favourable weather and also because of the Christmas holidays and New Year celebrations.
The official said the process of selecting the agency, which will carry out the task of running the campaign, is also under the process. Earlier, Tourism Minister Mahesh Sharma had endorsed Modi's persona for the role, saying he is the "best face" to promote Incredible India campaign. He had asserted that the country has witnessed a jump in the tourists inflow from the countries the Prime Minister had visited. He had said that the ministry need not have any Bollywood face for the campaign to attract tourists from overseas.
 
"The perception about India has changed significantly in the last two years with Prime Minister Modi visiting a host of countries during the period. So, who else could be the better face for Indian tourism than our Prime Minister," Sharma had said.
    
Supporting Sharma's remarks, a senior ministry official said tourist inflow from countries like the US, Germany, Fiji, Brazil, Australia, the UK, Canada and Myanmar, among others, has witnessed a significant jump after Modi's visit to these nations.
 
Earlier names of megastar Amitabh Bachchan and actress Priyanka Chopra were doing rounds for the campaign aimed at promoting India as a favourite tourist destination abroad after actor Aamir Khan's ouster as the campaign's brand ambassador.
    
Though it was believed that Khan was eased out of the campaign in January after being associated with it for several years for his remarks on perceived intolerance, the Tourism Ministry had maintained that he was not hired by the government and that the contract with the advertising agency which engaged him had expired.
Last Updated Mar 31, 2018, 6:52 PM IST