Modi government is strangulating CAG, claims Congress (WATCH)
The Congress party has criticized the BJP-led central government for limiting the independence of the Comptroller and Auditor General (CAG) of India. They allege that the CAG, which used to release numerous independent reports during the UPA era, has substantially reduced its report publications under the BJP regime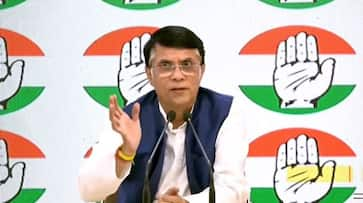 The Congress on Saturday claimed that the Comptroller and Auditor General of India (CAG), which used to release independent reports during the UPA era, has significantly reduced its report publications. Speaking at a press conference, Congress leader Pawan Khera stated, "Under this (BJP) regime, the CAG hardly publishes reports. In 2023, we have seen only 14 reports. Some of these reports revealed corruption allegations related to projects like Bharatmala Project and Ayushman Bharat."
The Congress leader named three CAG officers who exposed scams within the Modi government and were subsequently transferred. He demanded answers from Prime Minister Narendra Modi regarding the reasons for stopping fieldwork and the transfers of these officers. Khera emphasized the need to protect autonomous bodies from interference.
He also provided a copy of the email sent to the CAG's Mumbai office, which allegedly instructed the cessation of all audit and fieldwork, countering the CAG's denial.
He said: "The three CAG officers who exposed the scams of the Modi government were transferred. Aturao Sinha, who was in charge of the report of the Bharatmala Project, was sent from Delhi to Trivandrum. Dutt Prasad Suryakant Shirsat, who was in charge of the audit related to the Ayushman Yojana, was sent to the legal cell. Ashok Sinha, who had started the audit of Ayushman Yojana, was also packed off.
The most shocking thing is that an e-mail was sent to the CAG, Mumbai office, in which it was said that all audit and fieldwork should be stopped. That means the Modi government is strangulating CAG in this way." Khera alleged that a decade ago, CAG reports led to sensationalized corruption allegations, but many of them were proven baseless over the years. He accused this tactic of being used to tarnish the image of the former Prime Minister, Dr Manmohan Singh, and defame the UPA government.
Furthermore, Khera criticized the reduced number of reports and the lack of media attention on recent revelations of alleged corruption in projects like Bharatmala and Ayushman Bharat. Khera also highlighted an email sent to the CAG's Mumbai office, which allegedly instructed the cessation of all audit and fieldwork. He claimed that this amounted to the government strangling the CAG. The Congress's accusations raise questions about transparency and the independence of institutions in India's government oversight.
Last Updated Oct 21, 2023, 4:37 PM IST