Dera Violence: Mobile, internet services suspended in Haryana, Punjab till Tuesday
Mobile and internet services will remain suspended in Haryana and Punjab till Tuesday, August 29
This is to prevent spread of rumours in view of the tense situation after the conviction of Dera Sacha Sauda chief Gurmeet Ram Rahim Singh
The CBI court will pronounce the quantum of sentence in the rape case against Gurmeet in Rohtak on August 28 in Sunaria jail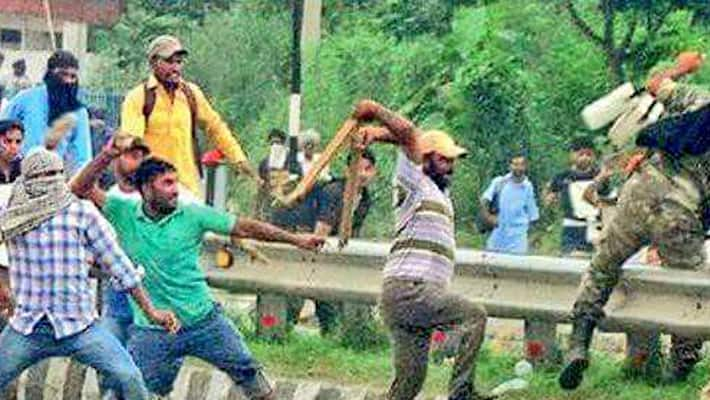 Mobile and internet services will remain suspended in Haryana and Punjab till Tuesday, August 29, to prevent spread of rumours in view of the tense situation after the conviction of Dera Sacha Sauda chief Gurmeet Ram Rahim Singh, said officials on Sunday, August 27.
Haryana Home Dept orders suspension of mobile net,SMS,all dongle services till 11:30AM on Aug 29.Voice calls on mobile networks not affected

— ANI (@ANI) August 27, 2017
A notification to block mobile Internet services and data services had been issued earlier.
Haryana DGP BS Sandhu said that 52 cases have been registered so far and 926 people have been arrested in the violence that erupted after the self-proclaimed godman was convicted of the rape charges. 38 people have died in the violence. 6 casualties are from Sirsa and 32 are from Panchkula. 
Total 38 deaths, 32 in Panchkula and 6 in Sirsa. All 6 deceased people from Sirsa have been identified: Haryana DGP BS Sandhu pic.twitter.com/0MzqQpUtwN

— ANI (@ANI) August 27, 2017
Mobile Internet services, which were suspended for 72 hours in Haryana, ahead of the court verdict on Friday, will continue to remain suspended till Tuesday, August 29.
Likewise, mobile internet services, which were suspended in Punjab as well three days back, will remain suspended in the state till Tuesday said Chief Minister Amarinder Singh.
Sandhu also assured that police protection will be provided to the media  and the police is prepared to handle any mob situations after journalists were attacked and OB vans and equipment damaged by Ram Rahim's followers.
The two states have been on high alert with curfew being imposed at many sensitive places. Sandhu has however clarified that a curfew has only been implemented in Sirsa and that no other location has a curfew in place now. 
The CBI court will pronounce the quantum of sentence in the rape case against Gurmeet in Rohtak tomorrow, August 28, and preparations are on to provide security for the sentencing to be held in Sunaria jail.
#Haryana: Services of bulk messages and mobile internet suspended in Kaithal, ahead of sentencing of Dera chief #RamRahimSingh tomorrow.

— ANI (@ANI) August 27, 2017
Last Updated Mar 31, 2018, 6:48 PM IST