Mizoram Election 2023: 18 women among 174 candidates file nominations
Mizoram's Chief Minister and President of the ruling Mizo National Front (MNF), Zoramthanga, submitted his nomination for the forthcoming assembly elections. He voiced strong confidence in the MNF's prospects of maintaining power and securing more than 25 seats in the 40-member assembly.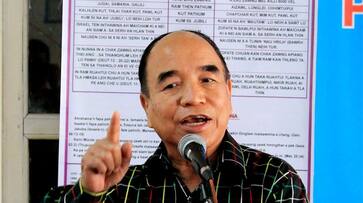 Mizoram Chief Minister and President of the ruling Mizo National Front (MNF), Zoramthanga, expressed his confidence in the party's ability to maintain power and secure over 25 seats out of the 40-member assembly in the upcoming elections. The state of Mizoram is scheduled to conduct its elections for the Mizoram Legislative Assembly on November 7. The filing of nominations for the single-phase assembly elections in Mizoram concluded on Friday, with a total of 174 candidates, including 18 female candidates, officially submitting their nominations.
On the final day for nominations, Chief Minister Zoramthanga filed his papers from the Aizawl East I constituency. He shared his optimism about winning with a significant margin in his own constituency and anticipated MNF's victory in the state assembly elections. Addressing the media after submitting his nomination, Zoramthanga acknowledged that the Zoram People's Movement (ZPM) would present a formidable challenge, though he expressed confidence in the voters' satisfaction with the MNF's performance. 
He predicted that his party would secure more than 25 seats in the election, surpassing the Congress. In response to Rahul Gandhi's assertion that the MNF and ZPM serve as tools for the Rashtriya Swayamsevak Sangh (RSS) to make inroads into Mizoram, Zoramthanga clarified that the MNF has no affiliations or agreements with the RSS. 
He emphasized that the party is a part of the NDA (National Democratic Alliance) and the NEDA (North-East Democratic Alliance) at the national level, primarily to avoid aligning with the Congress party, and this doesn't imply control by any other party. Zoramthanga pointed out the distinct political ideologies of the BJP and MNF.
In the previous assembly elections in November 2018, the MNF secured 26 seats and garnered 37.69 per cent of the total votes. The party later won two assembly by-elections, increasing its tally to 28 seats.
Last Updated Oct 21, 2023, 12:15 PM IST