Meet Rajeev Chandrasekhar, the new member of Team Modi
Rajeev Chandrasekhar, a third term Rajya Sabha MP, has been vocal on governance reforms, institution building, internet freedom, national security, the welfare of the Armed Forces personnel and infrastructure development in Bengaluru and Karnataka.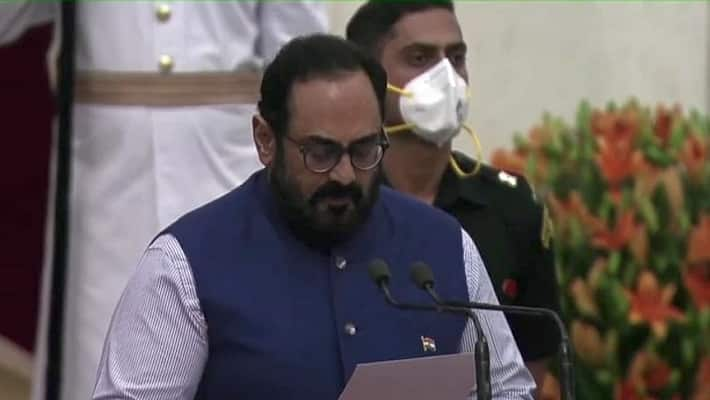 There was one name that was not part of any national media outlet's list of probable new faces who would be part of Prime Minister Narendra Modi's revamped Council of Ministers till few hours before the swearing-in ceremony at Rashtrapati Bhavan. The name was that of Rajya Sabha MP from Karnataka, Rajeev Chandrasekhar.
Today, he has been sworn in as a Minister of State with Independent Charge. Moments after taking the oath, Rajeev Chandrasekhar told Asianet News, "I have served the nation for 15 years as an MP to the best of my abilities. I am honoured that I have been chosen to be part of PM Modi's team as Minister of State -- a team that is working to build vibrantly growing prosperous India."
Rajeev Chandrasekhar is currently a third term Rajya Sabha MP. He is a vocal advocate in the Parliament on governance, information technology and economics. 
In his first term in 2006, he was the first to raise the 2G scam issue in Parliament. His focus areas remained on economic reforms, governance, technology, internet, youth issues and issues concerning national security and sustainable city governance of Bengaluru. 
He was an independent member of the Rajya Sabha representing Karnataka. In 2018 he was re-elected to the Upper House from the same state for a third term as a BJP member. He has been a member of the Bharatiya Janata Party (BJP) since 2018. He is also the party's national spokesperson and was vice-chairman of the Kerala wing of the BJP-led NDA. 
He has since advocated for governance reforms, institution building, internet freedom, national security, the welfare of the Armed Forces personnel and infrastructure development in Bengaluru and Karnataka.
Currently, he serves as a member of the Parliamentary Standing Committee on Finance, member of the Public Accounts Committee, member of the Joint Committee on Data Protection Bill, 2019, member of the Consultative Committee on MoE and IT, Ministry of Communications and member of the Indian Council for World Affairs. 
He is also vice-chairman of the Vivekananda International Foundation, Center for Economic Studies and the convenor of the National Coalition to Protect Our Children, NCPOC. He has also advocated for voting rights for the armed forces and succeeded in the Supreme Court.
Through the Flags of Honour Foundation, which he founded, he has helped many veterans and braveheart families across the country. He has also consistently campaigned for the implementation of the Citizenship Amendment Act. 
He is also the founder and managing trustee of the RC foundation which focuses on programs aimed at primary education for children who come from economically weaker sections. His Namma Bengaluru Foundation works towards making the city into a model city and aims to be the voice of the city in the areas of governance, reforms and citizen participation. 
He has been at the forefront of raising finances and resources for tsunamis, defence personnel and other issues. He has shown interest in public-private partnerships for the country's developments and finances along with national security.
Early life
Rajeev Chandrasekhar was born in Ahmedabad, Gujarat to a military family which led him to grow up all over the country. His father was an Air Commodore of the Indian Air Force. He studied in schools across the country and went to college to study engineering at the Manipal Institute of Technology. 
He did his masters in computer science from the Illinois Institute of Technology and then attended a six-week advanced management program at Harvard Business School. He got his doctor of science from Visvesvaraya Technological University. 
He was a senior design engineer and then CPU architect at Intel's microprocessor team, and worked under Vin Dham and current CEO Pat Gelsinger. 
In 1994, after returning to India, he founded BPL mobile and was one of the first to invest in the Indian Telecom sector. In July 2005 he sold his 64% stake in BPL Communications to the Essar Group for $1.1 billion. 
He then founded Jupiter Capital in 2005 with an initial investment of $100 million and currently has investments and managed assets of over $800 million in technology, media, hospitality and entertainment.
Last Updated Jul 7, 2021, 9:32 PM IST