Man drags truck driver on his car's bonnet; Watch shocking video
A video of a young man hanging on a car's bonnet kept pleading for his life. However, the driver bestowed no mercy and kept driving the car.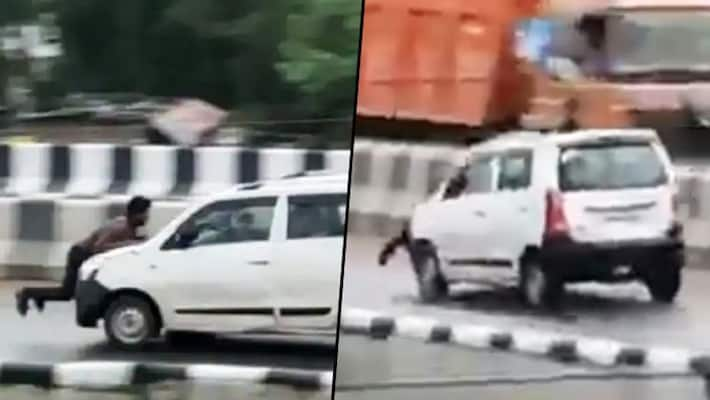 A hair-raising video of a man being dragged on a speeding car's bonnet on an Uttar Pradesh highway has gone viral and left netizens in shock. The episode occurred on Monday evening when a truck and car crashed on the Lucknow-Kanpur flyover, followed by a quarrel between the car passengers and the truck driver. When the argument intensified, the angry youths attempted to hit the truck driver standing in front of them. But he dived on the bonnet and grasped the wiper tightly. Then the youth speeded the car on the flyover.
The terrible act was observed on the Lucknow-Kanpur flyover in front of Kanpur's Jajmau outpost. First, the event was considered a stunt, but when eyewitnesses were asked about it, they confirmed the brawl car-truck collision.
The video was trending on digital media platforms and instigated concern among netizens.
The UP police emergency services Twitter handle responded to the tweet and confirmed that significant actions had been taken. They wrote, "Sir, the above matter is in the notice of the police station; necessary action is being taken." Watch the video.
Last Updated Jul 21, 2021, 11:13 AM IST