Maharashtra: Farmers bleed for loan waiver, and finally government budges
In a major victory for farmers, the Maharashtra government has agreed to fulfil all their demands
At least 35,000 farmers marched from Nasik to Mumbai on foot for six days, covering 180 km
People from all walks of life, irrespective of caste and creed, were seen flocking to help the farmers with food, water and footwear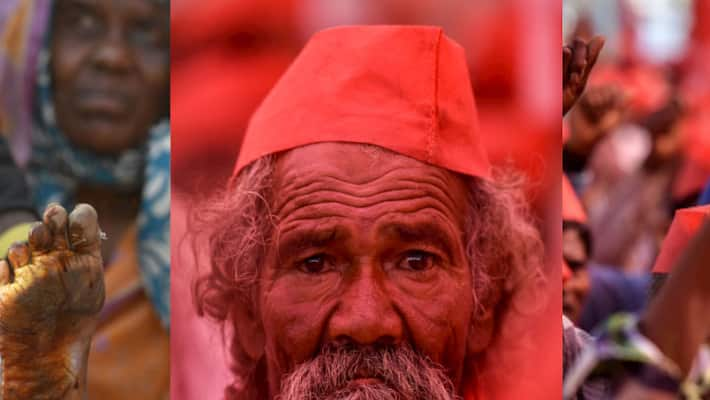 Nearly 35,000 farmers walked for a week, covering 180 km from Nasik to Mumbai, demanding loan waivers and higher crop prices. All India Kisan Sabha is leading the protests, which is one of the largest protests organised in decades. The farmers are demanding implementation of the MS Swaminathan Committee's recommendations.
This mass show of unity put Maharashtra government under pressure, which has now accepted to fulfil the demands of the farmers, leading to the withdrawal of protests and dharna.
Earlier, as some of the farmers walked barefoot after their slippers tore away, their feet were injured and bleeding, and most of them were hungry. Unlike those who protest and march for publicity, farmers have proved that they are the real backbone of India. Even with blisters, injuries and hunger, they marched to Azad Maidan because the Class 12 students were going for exams the next day, and they did not want to cause inconvenience to the students or the people.
ALSO WATCH: Farmers of India: These photos will tell you thousand stories
Whereas this mega march has not only shown the unity of farmers but also has brought people from all caste, creed, religion and walks of life together. Solidarity was seen among the people who distributed food, water and even footwear to the farmers.
There were Sikhs providing food for the farmers as they marched to the Azad Maidan. Muslims waiting with boxes of food on the roadside to feed the hungry farmers and it is said that Thane Matadata Jagran Manch also provided nearly 500kg of food grains to the farmers at BMC Octroi Ground.
The poor, debt-ridden farmers not only moved the hearts of common people but were also successful in getting their dues paid as the government budged and agreed to their demands. 
Out of India's total population of 1.3 billion,  800 million still depend on agriculture for their livelihood. In reality, the number of farmers committing suicide has gone up by 42 percent, stated the federal central farm ministry in the Parliament in February.
This is the major victory for the sea of red as revenue minister Chandrakant Patil said "all their demands" are being accepted. This was also one occasion where the unity of Indians was shown proving the theories of one community turning against the other.
Last Updated Apr 4, 2018, 7:11 PM IST