Madhya Pradesh crisis: Supreme Court issues notice to CM Kamal Nath, Speaker on plea over floor test
The apex court bench will hear the case tomorrow after the response of Kamal Nath government to the notice regarding floor test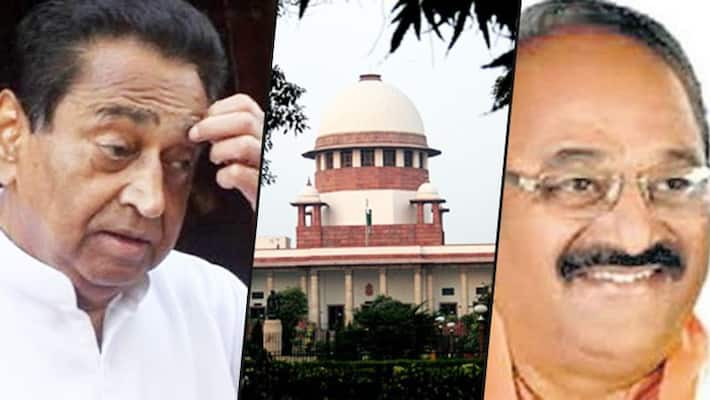 New Delhi: The Supreme Court on Tuesday issued notices to Madhya Pradesh chief minister Kamal Nath and Assembly Speaker NP Prajapati to respond within 24 hours to a plea by BJP MLAs seeking an immediate floor test.
The Supreme Court will hear at 10.30 am on Wednesday a BJP plea asking it to order a floor test in the Madhya Pradesh Assembly within 12 hours.
Senior advocate Mukul Rohatgi appearing for former chief minister Shivraj Singh Chouhan and nine other BJP MLAs, said it was a travesty of democracy that lawyers for CM Nath and the Speaker did not turn up in court.
"Let me just say that the other side deliberately did not appear," Rohatgi told the court, adding that the ruling Congress there was trying to buy more time for holding the trust vote.
Former CM Shivraj Singh Chouhan approached the apex court on Monday after Speaker Prajapati adjourned the House till March 26 over the coronavirus scare, disregarding state Governor Lalji Tandon's direction to Kamal Nath to seek a trust vote.
But BJP soon approached the top court, asking it to order a trust vote soon, and paraded its MLAs in front of Governor Lalji Tandon. 
The rebel MLAs, meanwhile, have dismissed claims that they've taken money. They say they can't be bought and have expressed dissatisfaction with Kamal Nath's government.
Madhya Pradesh plunged into a political mess after Jyotiraditya Scindia, a prominent face of the Congress, resigned from the party last week to join the BJP. Scindia's decision to leave the Congress was followed by the resignation of 22 party MLAs loyal to him. But Speaker NP Prajapati selectively accepted the resignations, hinting at conspiracies in store.
Last Updated Mar 17, 2020, 3:47 PM IST