Low business for Kumartuli idol makers as demand drops due to COVID-19 pandemic
Due to the COVID-19 pandemic, Kumartuli has taken a massive hit as orders for idols have dipped by a considerable margin. On the other hand, idol makers from different parts of the state are worried as they did not receive any deposit from Kumortuli Para.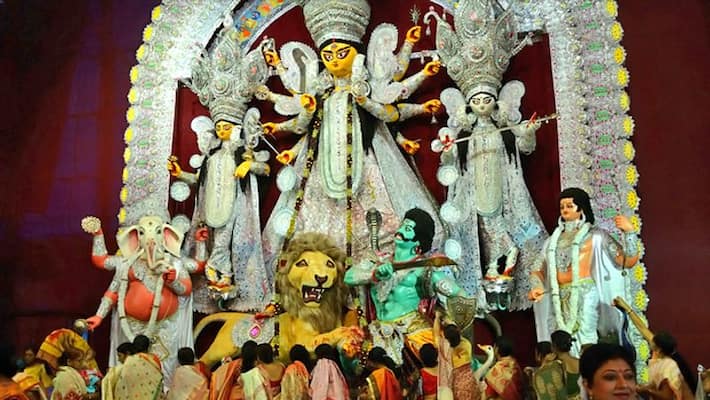 Kolkata: Thousands of artists work in different parts of Bengal to decorate the Durga idol. Many artists are unfortunately grappling with low demand for Durga idol this time of year due to the pandemic. The idol makers are worried about the situation.
There are 20-22 shops in Kumartuli Para of North Kolkata where different types of Durga idol ornaments are sold at wholesale prices. Traders from Uttar Pradesh, Bihar, Jharkhand, and Tripura buy various accessories made of shola, necklaces, crowns, and jewellery. But due to the pandemic and lockdown, making and selling of idol equipment are not happening the way they usually do.
Also read: Broad areas of Nadia shaken by 2 consecutive earthquakes; localities evacuated
Ranjit Sarkar, joint secretary of Kumortuli Pottery Cultural Association, said, "I look forward to the Durga Puja season all year round. But this time there was no request to buy idols from other states. People who make the equipment are also in dire straits without getting a deposit."
People celebrate Durga Puja as Dusshera in Bihar. Vijay Kumar of Sahebganj in Chapra district of Bihar, Ashutosh Kumar of Dwarbhanga, and Bishal Kumar of East Champaran bought idols from Kumartuli at wholesale prices. Vijay Kumar said on the phone from Chapra, "Due to COVID-19, we will have a symbolic festival of Dussehra. Therefore, we will not buy the idol this time from Kumartuli."
Also read: Pencil battery found inside stomach of 3-year-old; doctors perform incision to save life
On the other hand, the idol makers from different parts of the state are worried as they did not receive any deposit from Kumortuli Para. Ajibar Rahman of Amtala in South 24 Parganas earns a big amount of money by making hair for the head of the idol. In his words, "no orders were received by me to make the hair on the head of Durga idol. Due to COVID-19, I did not earn 20 percent of what I earn at other times." He further said, "We make hair for the whole year on the occasion of worship of different deities. But if such a situation continues, we will have to think of moving to another profession soon."
Kaushik Dhar, a resident of Dumdum, makes idol head ornaments. In the words of Kaushik, "The family lives by making the ornament of the goddess's head with lace and sequins. But this time I got only 15% orders from Kumortuli's shop. I have to run my family with great difficulty."
Shambhunath Mandal of Mandirtala in South 24 Parganas makes various types of jewellery from the garlands of shola for the idols. Shambhunathbabu said, "Our business has been completely ruined due to COVID-19. A humble appeal to the Honourable chief minister, let the government stand by us in this difficult situation.''
Last Updated Aug 27, 2020, 3:46 PM IST