Deepak Kumar Malik has thrown an open challenge to the Rajasthan cops
The Ganganagar police has 6 months to catch him for the murder of Vinod Beniwal
Deepak has warned of dire consequences to the policemen who hurt or abused his girlfriend who is in jail now
For Deepak Kumar Malik love knows no bounds. After murdering his girlfriend's ex-boyfriend, he has the guts to challenge the police with death threats after they arrested her as a co-accused in the case.  
Deepak Kumar Malik thinks he is invincible and that the police have done a grave mistake by arresting  Indubala on the charges of the murder of Vinod Beniwal. Deepak has been regularly updating his Facebook since August 1 with pictures of his girlfriend Indubala and warnings to the police about not harming a hair on his girlfriend's head or else the Ganganagar Police will need to pay a heavy price.
Before you think this is a Hindi movie, let's clear the matter- No.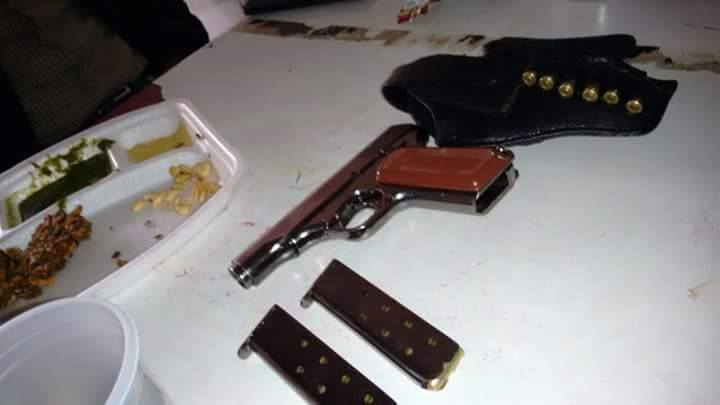 But Deepak is hell bent on making it a masala film, where he thinks that anyone who troubles his girlfriend will pay with their life and that anyone who hurts his love in any way, be it the police, will pay with their life. He has challenged the police to catch him and has confessed to murdering a man and said that Indubala should be left free.
Admitting to the murder he committed, he posted that 'someone tried to touch his girlfriend and he has died like a dog'.
In his latest post on August 11, he wrote addressing SI Chandrajeet Singh saying that 'whatever is being done to his 'wife' in the jail is absolutely wrong and anyone who has harmed her or has beaten her during custodial interrogation will pay for it. He accused the jail officers of exploiting a woman in jail, of accusing her of sleeping around and also abusing her. He says the policemen who did this to her will have to pay for it. He says, the words the policemen used for his 'wife' is not what he will use for the policeman's wife because he respects women. His enemity is with the police officer not his wife. In fact, he challenges them, reminding them of the recent run-in he had with them and how despite the exchange of gun fire, he escaped unscathed.
Deepak is extremely fond of guns and enjoys showing them off, he has posted many images of him with weapons and bullets on his Facebook page. The gun-toting loverboy is a raging alcoholic and is an extremely possessive lover.
A murder accused, Deepak belongs to the Naurangbas village in Charkhi Dadri district (Haryana) and he has been in love with co-accused in the murder case Indubala Kularia (25).
On August 1, Vinod Beniwal (28), a lab technician in Balasar, was found murdered, his face smashed beyond recognition. It took the police to find out the links and the culprits and finally they arrested Indubala in the case. She works as a nursing instructor.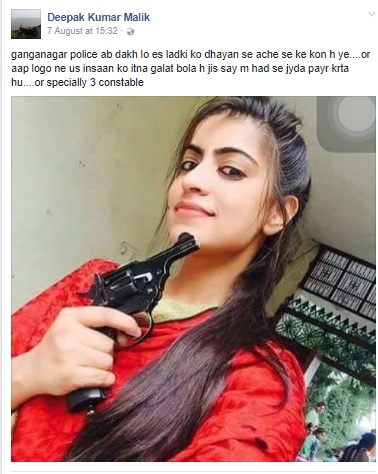 Police say that after meeting Deepak, Indubala was smitten by him and wanted nothing to do with Vinod anymore. She tried convincing him but he was adamant on not leaving her. As a final attempt the duo invited Vinod to Indubala's house, there he plied him with liquor and was threatening Vinod to leave Indubala, but he refused. Angered, Deepak allegedly whipped out his pistol and shot him.
In order to hide the death, the duo is alleged to have taken the body to link road where they ran over his face thrice. This happened on July 31.
According to reports, Deputy Superintendent of Police Tulsi Dass Purohit said they would take him up on his challenge. Even Deepak made a mention of it in his Facebook posts telling that now they could see what he could do.

In another post addressed to Tulsi Dass Purohit he warns him saying that he has no personal enmity with him but his police officers who touched and harmed his girlfriend Indubala.
On August 7 there were a flurry of posts all with a warning. One read: "I will avenge everything, everybody will have to pay, be it the devil, an animal or even the police"
His post challenging the Ganganagar police came on August 7 where he told them that he was giving them six months to catch him. While girlfriend Indubala was caught on August 3, he gave the police the slip and has been on the run. His warning is for three police officers in particular and says he has nothing to do with the rest of the department. He challenged them saying if they had the guts they would catch him and if not he would catch up with them to mete punishment.