Lockdown 3.0: Karnataka records highest liquor sales worth Rs 45 crore on day 1 as wine shops open
According to the Karnataka excise department, around 3.9 lakh litre of beer was sold and 8.5 lakh litre of Indian-made foreign liquor on day one of the restrictions being lifted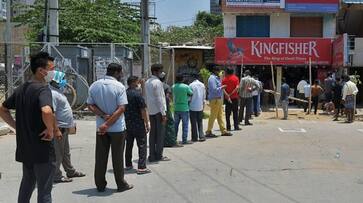 Bengaluru: Karnataka cashed in revenues of Rs 45 crore from liquor sales on May 4, as the state opened standalone liquor stores while keeping with MHA guidelines. According to the excise department, around 3.9 lakh litre of beer was sold and 8.5 lakh litre of Indian-made foreign liquor on day one of the restrictions being lifted.
The excise department in the state had urged the government to allow the sale of liquor to generate revenues.
Officials said the department registers the sale of liquor worth Rs 65 crore every day.  However, considering that only two licence holders (take-away outlets and MSIL) are allowed to function and more than 10 other license holders, including pubs, clubs and restaurants are closed, the liquor sale of Monday appeared to be a record business.
Long queues were seen at liquor stores across the country as numerous states commenced the sale of alcohol on Monday. According to retailers, many chose to buy hard liquor over beer as it can be stocked up and the intoxication level is also high.
The state excise department has allowed retail liquor outlets, the Karnataka State Beverage Corporations Limited (KSBCL) and Mysore Sales International Ltd depots to sell liquor outside containment zones from 9 am to 7 pm starting May 4.
Meanwhile, the excise department has urged locals to maintain social distancing while visiting liquor shops.
With PTI inputs 
Last Updated May 5, 2020, 10:15 AM IST