Leopard shot dead in Bengaluru: What does Wildlife Protection Act 1972 say?
The shooting of a leopard in Bengaluru has sparked public outrage, with calls for action against those responsible. The incident raises concerns about the Wildlife Protection Act, which permits killing or injuring wild animals in exceptional circumstances, only under strict conditions and with Chief Wildlife Warden authorization. Unauthorized killings can lead to legal consequences under the Act.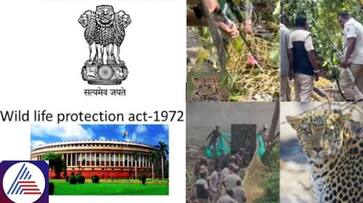 The incident of the Bengaluru leopard killing has triggered public outrage, with many condemning the Karnataka Forest Department for shooting the leopard before attempting to tranquillize it. A video capturing the shooting has gone viral on social media, leading users to demand strong government action against the individual responsible.
The leopard was initially spotted roaming the streets of Bengaluru near Kudlu gate on October 29th. It had been on the streets for four days without consuming any food. Reports suggest that two attempts were made to tranquillize the leopard, with the first attempt resulting in the animal escaping after attacking the vet, Dr Kiran. Shockingly, the leopard was allegedly shot with a gun before the tranquillizer was employed. This incident has ignited public outrage, with many expressing concerns about the forest department's inconsistent approach to wildlife conservation, especially in light of the Tiger pendant row.

Bengaluru: Forest dept under scrutiny over dual stance on tiger pendant, leopard shooting
What does the Wildlife Protection Act say?
Leopards, being a protected species in India, are subject to stringent conservation measures under the Wildlife Protection Act of 1972. This legislation is designed to safeguard the nation's diverse wildlife, and it categorically prohibits hunting wild animals, imposing severe penalties for such activities. However, the Act does include provisions that allow for the killing or injuring of wild animals, but only in exceptional circumstances and under strict conditions. These exceptions are provided in situations where a wild animal poses a direct threat to human life, is afflicted by a terminal illness, or has sustained injuries resulting in irreparable disability, such as the loss of a vital organ.
Crucially, the authority to issue an order for the injury or killing of such an animal lies solely with the Chief Wildlife Warden. This order must be in writing and can only be issued when there are no feasible alternative methods to address the imminent threat. It is incumbent upon the Chief Wildlife Warden to provide a valid and compelling rationale for issuing such an order, and they have the discretion to appoint a designated individual to carry out the task.

Bengaluru: Leopard escapes after being shot with anaesthesia, search operation persists
The Wildlife Protection Act of 1972 also permits the capture and utilisation of wild animals for specific purposes, including education, scientific research, and scientific management. However, this necessitates obtaining a license and complying with the specified regulations and fees. For instance, such provisions can be particularly relevant in cases where animals are needed for the testing of vaccines or other scientific endeavours.
An essential aspect to note is that any wild animal injured or killed under these specific circumstances automatically becomes government property, and it must be promptly surrendered to the appropriate authorities in accordance with the Act's stipulated procedures.

Bengaluru: Captured leopard succumbs to bullet injury shortly after capture
It is crucial to differentiate between scenarios involving forest department officials, who are authorized to handle these situations under the Act, and cases where individuals outside of the forest department may be involved. Individuals who claim to have killed or injured a wild animal for self-defence can face legal consequences, including arrest unless they can provide substantial evidence supporting their claims in a court of law.
In cases where the killing of an animal occurs without the requisite authorization, a thorough investigation should be carried out. If misconduct is established, those responsible should be subject to appropriate penalties in accordance with the Wildlife Protection Act of 1972.
Last Updated Nov 2, 2023, 1:22 PM IST