Kuki leader's August speech at Gurdwara where 'terrorist' Nijjar was killed raises eyebrows
Lien Gangte, representing the North American Manipur Tribal Association (NAMTA), condemned what he described as "attacks on minorities in India" and called for support from Canada. The speech highlighted instances of violence and displacement.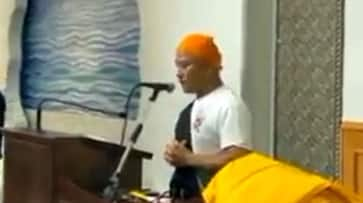 Amid the ongoing diplomatic faceoff between India and Canada over the killing of Hardeep Singh Nijjar -- a terrorist -- a video showing the leader of a Canada-based Kuki-Zo tribes group from Manipur speaking about the ethnic violence in their homeland has ignited a significant controversy. The event took place in early August at the same gurdwara in Surrey, Canada, where Nijjar was shot dead by unidentified individuals in June.
Lien Gangte, the head of the Canada chapter of the North American Manipur Tribal Association (NAMTA), used his platform to denounce what he characterized as "attacks on minorities in India" and appealed for "all possible assistance" from Canada.
NAMTA initially shared a video of the event on Facebook and X (formerly Twitter) on August 7. However, these videos were later removed after tensions between India and Canada escalated following Prime Minister Justin Trudeau's recent assertion that "Indian government agents" were involved in the killing of Khalistani terrorist Nijjar.
Gangte, representing the Kuki-Zo tribes to which he belongs, spoke at length about the ethnic violence between the hill-dwelling majority tribes and the valley-dwelling Meiteis.
He recounted, "On May 4, a mob attacked our home and attempted to murder my 80-year-old father. They looted and set our house on fire. My elder brother and his family fled with only the clothes on their backs. Manipur has been engulfed in flames since May 3, with over 120 casualties, more than 7,000 homes looted and destroyed, numerous churches burnt down, and 200 valley villages laid to waste."
Gangte accused the authorities of inaction and even alleged that the Manipur Police supported the rioters. He described their displacement from the Imphal valley as ethnic cleansing and recounted horrific incidents, including the burning alive of a seven-year-old boy, his mother, and a relative in an ambulance.
He also criticized Prime Minister Narendra Modi, stating, "When all of this was happening in India, where was Prime Minister Narendra Modi? He visited the US, France, Egypt, everywhere except the place that needed his attention the most." Gangte asserted, "No minority is safe in India, be it Muslim, Sikh, or Christian. We condemn attacks on minorities in India and appeal for any assistance Canada can provide."
Indian intelligence agencies are reportedly monitoring NAMTA's activities and investigating alleged links between the Kuki-Zo group and Khalistani elements, as reported by The Times of India, citing unnamed officials.
Following Gangte's speech, reports suggested that NAMTA members and supporters of Khalistani terrorist Nijjar convened for a meeting, citing unnamed intelligence sources.
The ethnic violence in Manipur, which began on May 3, has claimed the lives of over 180 individuals and primarily revolves around the demand by the Meiteis for Scheduled Tribes category status, leading to clashes between the Kuki tribes and the Meiteis. Thousands have been displaced, finding refuge in relief camps and prefabricated houses.
Last Updated Sep 30, 2023, 9:01 AM IST