WB Polls: 40% voting so far in 3rd phase, violence kills one
About 40% voters have exercised their franchise in the first four hours of polling in the third phase of West Bengal Assembly elections for 62 seats, seven of which are in northern Kolkata
On the same day, a 35-year-old CPM supporter killed in Murshidabad district. His body was found lying outside a polling booth at Shibapara area under Domkal Assembly seat in Murshidabad district. The activist was killed when bombs were hurled outside the polling booth.
It's Didi's test of fire as seven constituencies in Kolkata go to polls today among the 62 seats in West Bengal's crucial third phase of the Assembly Elections. With 1 lakh security personnel deployed to look after law and order, polling began today at 7 AM.
Altogether 418 candidates, including 34 female, are in the fray in the 62 seats spread over Murshidabad, Nadia, Burdwan districts and north Kolkata.
Over 1.37 crore voters, including 65.8 lakh women, are registered in the electoral rolls at these constituencies. Voting has begun in 16,461 polling stations and will go on till 6 PM.
Key candidates whose fate will be sealed today include Trinamool ministers Shashi Panja and Sadhan Pande, BJP national secretary Rahul Sinha, five-time Congress MLA Md Sohrab, CPI-M MLA Anisur Rahman and retired IPS officer Nazrul Islam.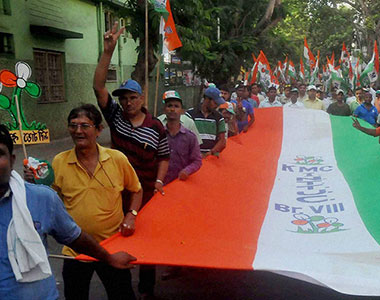 The one lakh security personnel include 75,000 central forces.
The Election Commission has identified 3,401 hamlets in the phase as vulnerable where extra security and confidence building measures were taken.
Based on complaints received from the electorate, 6,095 voters have been identified as vulnerable after which action has been taken against 4,094 trouble-mongers.
To avoid the scorching sun as the day progresses, many voters were ready to exercise their franchise early in the morning.
Several districts are reeling under a heatwave. Even in the city, the weatherman has predicted 39 degrees Celsius temperature on the polling day.
Polling will be held in three more phases ending on May 5.
Last Updated Mar 31, 2018, 6:57 PM IST