Kerala: UAPA slapped on Maoists captured after encounter in Wayanad
The police have slapped the UAPA on the Maoists who were captured after an encounter in the Chaparam area in the Wayanad district. Chandru and Unnimaya were detained by the police force and the search is on for two others who fled the scene.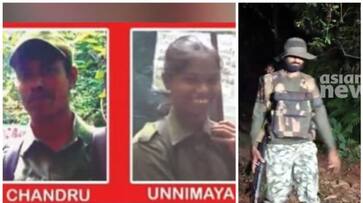 Wayanad: A gun battle broke out between Kerala Police Thunderbolts special forces team and Maoists in a forest area at Thalappuzha, near Periya in Wayanad district late on Tuesday (Nov 7). The police detained two from the gang of four - Chandru and Unnimaya, both allegedly top cadres of the Bansura Dalam of the Communist Party of India (Maoist). A large police force has been deployed at the forest borders. According to the police FIR, there were five Maoists during the encounter. The FIR states that apart from Chandru and Unnimaya, an armed man was guarding the house. The police also stated that he fired several times at Thunderbolt. 
Also read: Kerala: Two Maoists detained after gun battle in Wayanad
The police have slapped the Unlawful Activities (Prevention) Act (UAPA) against all the accused. 
The police have recovered four guns from their possession which were stolen from various forces. The investigation team is trying to complete the ballistic test of the guns today. The test is also to confirm which guns were used to open fire. Once this is done, the police will immediately complete the collection of evidence with the Maoists. The Kalpatta court has granted police custody for five days.
Anish's home in Chapparam Colony was visited by a group of four armed Maoists last night at approximately 7:00 p.m. Before sitting down to dinner, they charged their cell phones at home. This time, Thunderbolt's move was extremely covert. Thunderbolt had already taken up a position at Chapparam Colony around noon. From a distance, they kept an eye on every step the Maoists made towards the colony.
The action was to apprehend the Maoists as they were about to leave the home. However, one of the family members came out in the interim. They raised a ruckus when they spotted Thunderbolt in the backyard. After that, the Thunderbolt group opened fire, encircled the home, and made a surrender demand. Two persons fled at this moment. The officers were fired upon by two Maoists within the house. The Thunderbolt squad entered the house and apprehended them.
Last Updated Nov 9, 2023, 9:56 AM IST