Kerala to receive heavy rainfall ; IMD issues yellow alert in 6 districts today
Kerala's rain will likely continue until this weekend. IMD issued a warning for heavy rainfall and sea attacks in various districts. Pathanamthitta, Alappuzha, Kottayam, Idukki, Ernakulam, and Thrissur districts have been issued yellow alerts for heavy rain today.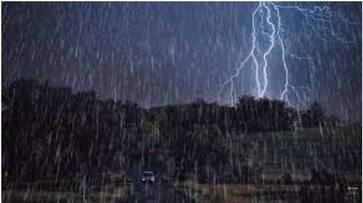 Thiruvananthapuram: The Indian Meteorological Department (IMD) issued a warning of heavy rain and sea attack possibilities in Kerala that will continue until this weekend. A yellow alert has been issued in various districts including Pathanamthitta, Alappuzha, Kottayam, Idukki, Ernakulam and Thrissur today. The IMD has also informed a possibility of moderate to heavy rain in isolated places in the next 3 hours.
At the same time, the National Institute of Oceanography has informed that the sea conditions in the coastal areas of Kerala are likely to be rough until 11:30 p.m. tonight, with waves ranging from 1.5 to 1.8 meters. Fishermen and coastal residents are advised to take precautionary actions. It is recommended that fishing activities and beach outings be avoided, and precautions should be taken to secure fishing equipment. Coastal areas should be closely monitored for any possible calamities caused by the rough sea conditions.
The IMD has also informed the public that the possibility of heavy rain in the state is expected until September 10. Yellow alerts were in effect in these districts as well as Kozhikode and Wayanad on September 9. Idukki, Malappuram, Kozhikode, Wayanad, Kannur, and Kasaragod districts were issued a yellow alert on September 10. The possibility of heavy rain is expected during this period, with rainfall ranging from 64.5 to 115.5 millimetres in 24 hours.
Residents and authorities are advised to stay vigilant and take necessary precautions to mitigate the impact of heavy rainfall and rough sea conditions during this period.
Last Updated Sep 7, 2023, 8:53 AM IST