Kerala to get longest bridge across Vembanad Lake soon; Check details
Located in the Alappuzha district, the Perumbalam Bridge, also known as the Perumbalam-Panavalli Bridge, is a bowstring arch bridge that is currently under construction. To link the small island of Perumbalam with the mainland, a bridge is being built over the Vembanad Lake.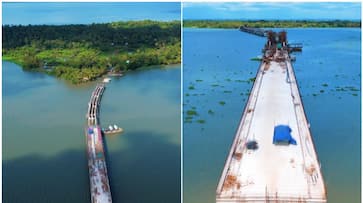 Kottayam: The longest bridge in Kerala that crosses a backwater, the Perumbalam Bridge, will soon be completed. The bridge connecting the incredibly picturesque Perumbalam island to Vaduthala has 70 percent of its construction finished. The realisation of the one km long bridge has been a goal of the island's residents for fifty years.
After 19 kilometres from Cherthala, one reaches Panavalli. Then, after travelling by boat over the Vembanad backwater, one can arrive at Perumbalam island. The largest island panchayat in Kerala is Perumbalam. This island is home to 3,000 families. The only access to the outer world is through a boat or a jankar. Even this facility was not available 15 years ago. In 2019, the government finally saw the light and gave the bridge connecting Perumbala to Panavalli approval.
Another construction firm, Cherian Varki Construction Company, launched a lawsuit against the government and the Uralungal labour society, which had contracted to build the bridge. This caused the project to be delayed. The construction work was eventually resumed in late 2021 after the Kerala High Court made a decision in favour of the Uralungal society and the government.
Currently, 70 percent of the work has been finished. The bridge measures 1115 metres in length. The staggering construction cost is Rs 100 crores. 12 of 30 slabs and 60 of 81 girders have reached completion. After the bridge is finished, the tourism industry is predicted to undergo significant upheaval.
The bridge will be 1115 metres long and 11 metres wide. The bridge has an 11.0 m span, 27 spans that are 35 m long, and 3 bow string arch spans that are 55 m long. The sidewalks on either side of the 7.5 m-wide highway will each be 1.5 m wide.
Last Updated Sep 25, 2023, 11:49 AM IST