Kerala: Suresh Gopi promises financial support to elderly women protesting welfare pension delay in Idukki
Actor-politician Suresh Gopi extends support to Mariyakutty, an elderly woman leading protests against the Kerala state government's delayed welfare pension in Adimaly, Idukki. Joined by local BJP leaders, the actor visited Mariyakutty, who, along with Annamma Ouseph, had organized a unique protest, demanding attention to their plight.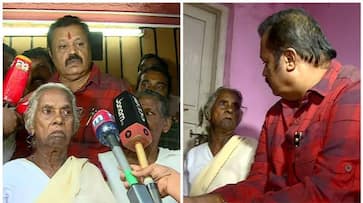 Idukki: Actor-politician Suresh Gopi on Friday (Nov 17) visited Mariyakutty, the elderly woman who has been protesting against the state government for delay in disbursing welfare pension in Adimaly of Idukki district. Last Wednesday in Adimaly town, Mariyakutty (87) and Annamma Ouseph (80) organised a protest demanding alms by carrying earthen pots. The visit was accompanied by BJP local leaders.
Also read: Kerala: Elderly women in distress as Welfare pension continues to remain suspended
The actor promised Mariyakutty that he would keep questioning the state administration about the whereabouts of the central funds. The old woman also blamed the Pinarayi government for unnecessarily blaming the BJP. 
The actor also said that the state government has submitted incorrect figures for the non-payment of the central share in the welfare pension.
Suresh Gopi made note of the additional fee of Rs 2 that is applied to each litre of petrol that people of the state purchase. 
"The Chief Minister had previously said that more funds would be useful for allocating pensions to the underprivileged. But the truth is now known to us. The state's citizens will no longer pay more for petrol, and notices mentioning the theft will be distributed to all petrol firms, including Indian Oil. Our state government isn't trustworthy," the BJP leader said.
In the meantime, Suresh Gopi promised to grant Mariyakutty and Annakutty each Rs 1,600 from his MP's pension in the upcoming months.
 
Last Updated Nov 17, 2023, 2:28 PM IST