Kerala: Returning NRKs will have to pay for institutional quarantine
Kerala chief minister Pinarayi Vijayan said that institutional quarantine at affordable rates would be provided for non-resident Keralites (NRKs)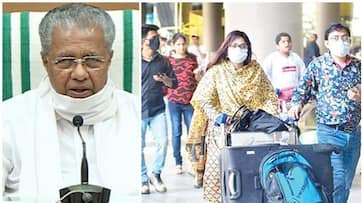 Thiruvananthapuram: Kerala chief minister Pinarayi Vijayan said that non-resident Keralites (NRKs) returning to the state should have to pay for the seven days' institutional quarantine from now on. He added that the institutional quarantine are affordable for the NRKs.
Also read: Karnataka will allow temples to open from June 1, but no fairs and festivals to be allowed
He also said registration on the state government portal is important to ensure proper medical checks and quarantine.
Strict action against people without passes:
Vijayan said that those who enter the state without registration will be fined. Compulsory quarantine of 28 days will be imposed on such people.
Kerala reports 67 new COVID-19 cases:
Kerala reported 67 new COVID-19 cases, its biggest spike in a day, on Tuesday, while 10 tested negative.
Out of the new cases, 29 are from Palakkad district, 8 are from Kannur, 6 are from Kottayam, 5 each are from Malappuram and Ernakulam, 4 each are from Thrissur and Kollam, 3 each are from Kasaragod and Alappuzha districts. Out of the 67 coronavirus positive cases, 27 had returned from abroad. 33 had returned from other states.
Last Updated May 27, 2020, 12:45 PM IST