Kerala Police books Union Minister Rajeev Chandrasekhar, accuses him of attempting to incite riot
The Kerala police on Tuesday (Oct 31) filed a case against Union Minister Rajeev Chandrasekhar accusing him of inciting riots in the state after the blast in Kalamassery, Ernakulam. He has been booked under IPC 153 and 153 A.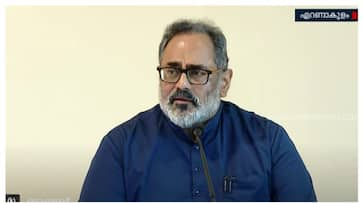 Kochi: The Ernakulam Central police registered a case against Union Minister Rajeev Chandrasekhar on Tuesday (Oct 31). An FIR has been filed based on the complaint of Cyber Cell SI. The FIR stated that the Union Minister tried to create controversy through social media after the Kalamassery blast on Sunday. A case has been filed against the central Minister's Facebook account. IPC 153 (wantonly giving provocation with intent to cause riot) and 153 A (promoting enmity between different groups) have been registered against the Union Minister.
The FIR also states that an attempt was made to create a riot in Kerala in the wake of the Kalamassery blast and the Union Minister tried to incite conflict against a religious group. The police also alleged that he shared videos related to Palestine attacks.
After the blast went off in a convention centre at Kalamassery on Sunday, the Union Minister tweeted, "Dirty shameless appeasement politics by a discredited CM (and HM) @pinarayivijayan besieged by corruption charges.Sitting in Delhi and protesting against Israel , when in Kerala open calls by Terrorist Hamas for Jihad is causing attacks and bomb blasts on innocent Christians."
Reacting to this, CM Pinarayi Vijayan said he would take strict legal action against the Union minister and BJP leaders who unleashed a wave of communally charged comments in the wake of the Kalamassery blasts.
However, Chandrasekhar defended his statements and said, "Kerala CM Pinarayi Vijayan is hiding his inefficiency as a Home Minister by using the communalism argument as a cover."
The Jehovah's Witnesses were holding a three-day prayer gathering at the international convention centre in Kalamassery on Sunday when multiple blasts occurred, leaving three people dead and over fifty injured.
Last Updated Oct 31, 2023, 10:38 AM IST