Kerala News Highlights: Kerala to receive heavy rainfall today; IMD issues yellow alert in 12 districts
Kerala News highlights: Kerala to receive heavy rainfall today; IMD issues yellow alert in 12 districts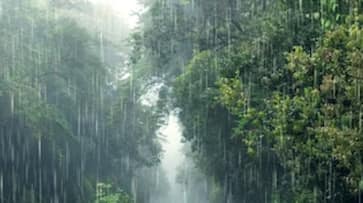 4.15 PM: Three MNREGA women workers struck by lightning in Kozhikode
Three women workers of the MNREGA were struck by lightning in the afternoon at 3.45 pm on Monday. All three women were admitted to the hospital. 
---
3.30 PM: Kochi Water Metro Transport receives country's Best Green Transport Initiative award
The Water Metro project in Kochi has been named the Best Green Transport Initiative in India, taking home the top honour in the nation. Jabalpur, Madhya Pradesh, has been named the city with the most inventive finance structure for its city transport services.
---
2:52 PM: Maoist opens fire in Kannur
Maoists fired shots at forest watchers in Ramachi, Kannur. No one was injured during the incident. There were three forest watchers present when the Maoists opened fire. The Maoists fired their shots into the air, causing the forest guards to quickly retreat. 
---
1:30 PM: CM Pinarayi Vijayan arrives at Kalamassery to visit injured patients in blast
---
12:45 PM: Kerala to receive heavy rainfall today; IMD issues yellow alert in 12 districts
The India Meteorological Department has issued a warning of heavy rainfall in the state today. A yellow alert has been issued in 12 districts including Thiruvananthapuram to Wayanad today
---
11:34 AM: Malayalam TV actress Renjusha Menon found dead
Malayalam serial and film actress Renjusha Menon was found hanging dead in her flat. She was 35. She was staying in a rented flat with her husband. Inquest proceedings are going on in the actress's flat in Sreekaryam, Thiruvananthapuram. The cause of Rajnusha's death is not clear. Rajnusha and her husband have been living in Sreekaryam flat for the past few years. 
Read More: Malayalam TV serial actress Renjusha Menon found dead
---
11:25 AM: 4 people in critical condition, informs Health Minister Veena George
Kochi: Health Minister Veena George has said that 17 people are undergoing treatment in various hospitals in the Kalamassery blast. The condition of four people under treatment is critical. Two of them are on ventilators. The minister told the media that the mother and brother of the deceased child are in serious condition. 
---
10:58 AM: Union Minister Rajeev Chandrasekhar has arrived at Kalamassery blast site
---
10.00 AM: Case filed against Kanhangad Municipality Vice Chairman for culpable homicide
A case has been filed against Kanhangad Municipality Vice Chairman Abdullah for culpable homicide. The Hozdurg police registered a case on the complaint of his daughter's husband, Shahul Hameed, a native of Kolavayalal. The complaint is that the two were attacked in Kolavayal due to enmity between the two. There is also a case against Shahul Hameed on Abdullah's complaint that he was beaten up.
---
9.45 AM: Kalamassery blast: Case filed for inciting religious hatred in Pathanamthitta
A case was filed against a Facebook profile named Riva Philip for inciting religious hatred in relation to the Kalamassery blast. The Facebook post said SDPI carried out the bomb attack.
---
9:07 AM: Kalamassery blast: Dominic Martin made bomb at his home; says Kochi police
The Kochi Police said that Dominic Martin, who surrendered in the Kalamassery blast case, prepared the explosive device at his home in Thammanam. There are two rooms in the house. Dominic Martin was alone in that room. It is concluded that the bomb was made in that room. 
---
8:21 AM: Parumala Perunnal begins in Alappuzha; police tighten security
The Parumala Perunnal begins in Alappuzha on Monday. In the wake of the Kalamassery blast, special security arrangements have been made at the church. The manager informed that there will be access to the church premises only through gates numbers one and two adjacent to the old cross on the north-east side of the church.
---
8.15 AM: NDA lays siege over Secretariat; BJP national President JP Nadda to inaugurate
The NDA workers are continuing to lay siege to the Secretariat demanding Chief Minister's resignation. The strike which started at 8 pm last night will be extended to more gates of the Secretariat this morning. BJP National President J.P. Nadda will inaugurate the protest at 11 am. The strike is about price rise, corruption etc. Nadda will also participate in NDA and BJP leadership meetings after the strike. 
---
8.06 AM: Rain to continue in state today; Yellow alert in 10 districts
The IMD has warned of a possibility of rain in many places in Kerala on Monday. Easterly winds may intensify over Bay of Bengal and over South India. A yellow alert has been sounded in Pathanamthitta, Alappuzha, Kottayam, Idukki, Ernakulam, Thrissur, Palakkad, Malappuram, Kozhikode and Wayanad districts on Monday. Gusty winds of 30 to 40 kmph are also likely to occur along with isolated thundershowers. 
---
8.00 AM:  Kalamassery blasts: Death toll rises to 3 as 12-year-old girl succumbs to injuries
A 12-year-old girl, who was undergoing treatment after the Kalamassery Convention Centre blast, died. Libina, a native of Malayattoor succumbed to her burn injuries. With this, the death toll in the blast has climbed to three. She suffered 95 percent burns in the blast and was being treated on a ventilator. The necessary treatments for the child were being given as per the instructions of the medical board. However, he did not respond to the medicines and died at 12.40 am on Monday, officials said. Kumari (52) and Leona Paulose (55) have been identified as the other deceased victims of the tragedy. They are from Thodupuzha and Perumbavoor, respectively.
 
Last Updated Oct 30, 2023, 5:17 PM IST