Kerala News Highlights: Heavy rainfall to lash Kerala; Yellow alert in 6 districts
Kerala News Highlights: Heavy rainfall to lash Kerala; Yellow alert in 6 districts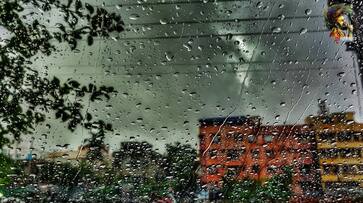 4.15 PM: Karuvannur bank scam: 'Looters will not be spared...' Union Minister V Muraleedharan
On Saturday, Union Minister V Muraleedharan refuted the ruling CPM's assertion that the investigation into the multi-crore Karuvannur bank scandal was an intentional ploy by the Centre to target Kerala's cooperative sector. Muraleedharan issued a warning that anyone who stole the poor's life savings would not be spared.
---
3.30 PM: Nipah update: Educational institutions to resume in Kozhikode from Monday
As the Nipah scare seems to be over, the educational institutions will reopen on Monday in Kozhikode. However, educational institutions in the containment zone will continue online classes.
---
2.10 PM: Heavy rainfall to lash Kerala; Yellow alert in 6 districts
The IMD has predicted heavy rainfall in Kerala today. There are also chances of isolated rainfall in several regions. A yellow alert has been declared in the Alappuzha, Kottayam, Idukki, Ernakulam, Thrissur and Palakkad districts.
---
1.30 PM: Student collapses and dies while playing football in Kannur
A student collapsed and died while playing football in Kannur's Koothuparamba. Sinan (19) a native of Neerveli, died during the game at 10.15 pm on Friday. Though he was rushed to a private hospital in Kannur, he died early today.
---
12.15 PM: Midst announcement makes CM Pinarayi Vijayan furious, walks out of anger
Chief Minister Pinarayi Vijayan stormed off stage in annoyance after an abrupt microphone announcement that occurred while he was speaking.  An announcement started from the side of the stage just as the CM's address was about to conclude. The CM was furious over this, so he publicly addressed it before leaving the platform. The event happened at the Bedaduka Farmers Cooperative Bank's opening ceremony in Kasaragod.
---
11.30 AM: NIA arrests Manarkkad native over ISIS activity in Kerala
The National Investigation Agency (NIA) has nabbed one more individual in connection with the ISIS activity in Kerala. A Manarkkad native Zaheer Turki has been arrested. NIA said that he is the accomplice of earlier arrested Nabeel Ahmed. NIA also stated that Zaheer helped Nabeel Ahmed to go into hiding.
---
10.45 AM: 'Never dreamt of winning...' Onam Bumper winner tells Asianet News
Onam Bumper 2023 winner Natarajan told Asianet News that he never dreamt of winning the jackpot. He along with his friends went to Walayar to meet a friend who was unwell. While returning, they bought three tickets. Natarajan said that he was overwhelmed and thanked the Kerala government. Natarajan took the ticket along with Kuppuswamy, Pandyaraj and Ramaswamy.
---
10.00 AM: Kottayam SI leaks confidential details to terrorist organisation; suspended
An SI of the Kottayam district police headquarters was suspended for leaking official police secrets to the banned terrorist organisation. The Ernakulam range DIG suspended Grade SI P.S. Rijumon from the cyber cell department. According to sources, the action was carried out in accordance with the National Investigation Agency's (NIA) directives.
---
9.30 AM: Legendary Malayalam actor Madhu turns 90
Malayalam's legendary actor and one of India's greatest actors Madhavan Nair aka Madhu turned 90 today. In a span of six decades, he has acted in more than 400 films. He was awarded the Padma Shri by the Government of India in 2013 for his contributions to the arts. He was honored with the J. C. Daniel Award by the Government of Kerala in 2004, for his outstanding contributions to Malayalam films. He is the president of the Indian People's Theatre Association (IPTA) Kerala Unit.
Read More: Who is Madhavan Nair? Legendary Malayalam actor Madhu turns 90
---
9.00 AM: Rain update: Kanjirapuzha dam shutters lowered 
The Kanjirapuzha Dam in Palakkad had all three of its spillway shutters lowered to 10 cm at 7 am today, according to the district collectorate. The shutters were gradually lowered to 20 cm from 70 cm by 5 am on Saturday as the amount of rainfall and water entering the dam reservoir decreased over the night. Due to the constant rain at the dam's catchment area on Friday evening, the shutters were lifted by 70 cm.
---
8.45 AM: Rahul Gandhi should not contest in Wayanad: CPI
The Communist Party of India (CPI) executive committee opined that Congress leader Rahul Gandhi should not contest in Wayanad for Lok Sabha elections. The CPI criticised that if he contests in Wayanad it will affect the progress of I.N.D.I.A. alliance. Santhosh Kumar MP raised criticism in the executive committee.
---
8.25 AM: Traffic restrictions on Sunday in Thiruvananthapuram
Due to the Kovalam Marathon, there will be restrictions on traffic along the National Highway 66 bypass from Kovalam to Shangumugham on Sunday from 2 a.m. to 10 a.m. The Kovalam to Chakka junction and Chakka to Shangumugham bypass roads will have restrictions enforced by the city police during this time.
Read More: Kerala: Traffic restrictions on Sunday in Thiruvananthapuram due to Kovalam Marathon; Check details
Last Updated Sep 23, 2023, 7:33 PM IST