Kerala News HIGHLIGHTS: Heavy rainfall to lash Kerala for next 5 days; Yellow alert in 2 districts today
Kerala News highlights: Heavy rainfall to lash Kerala for next 5 days; Yellow alert in 2 districts today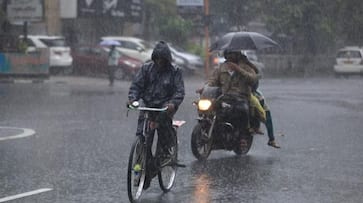 3.30 PM: Heavy rainfall to lash Kerala for next 5 days; Yellow alert in 2 districts today
A yellow alert has been sounded in Idukki and Ernakulam today. Heavy rain is likely to continue in the state for the next five days. According to the latest notification, there is a possibility of moderate rain in Kerala for the next 5 days. According to the Meteorological Department, cyclonic circulation is likely to strengthen as a low pressure over the northwest Bay of Bengal in the next 48 hours.
---
2.30 PM: Kerala HC stays trial proceedings against actor Mohanlal in ivory possession case for 6 months
The Kerala High Court on Monday (Sep 18) stayed trial proceedings in the ivory possession case against actor Mohanlal for six months. Prior to the trial, the actor had been ordered by the Perumbavoor Magistrate Court to show up in person. But the court has now ordered a stay of all further proceedings.
---
1.30 PM: HC gives nod to Kerala govt to make payment to Keltron for AI camera
The Kerala High Court gave the state government permission on Monday to pay the first installment to the Kerala State Electronics Development Corporation Ltd (Keltron) for implementing the "Safe Kerala" project, which involves installing AI-enabled cameras for traffic surveillance, into effect.
---
12.45 PM: SSLC exams to begin from March 4, 2024: Minister V Sivankutty
Kerala Education Minister V Sivankutty announced on Monday that the SSLC (Secondary School Leaving Certificate) examination this academic year will be held from March 4 to March 25, 2024. He added that the higher secondary school examination will be held from March 1 to 26, 2024.
Read More: Kerala: SSLC, HSC exam dates announced; Check timetable HERE
---
11.45 AM: Karuvannur Scam: ED tightens noose around more CPM leaders 
In the Thrissur and Ernakulam districts, searches by the Enforcement Directorate (ED) are currently taking place at a number of State Service Cooperative Banks. These raids were a part of the ED's investigation into alleged money-laundering activities connected to the Karuvannur Cooperative Bank. M.K. Kannan, a former MLA and member of the CPM state committee, is currently leading a similar raid at the Service Cooperative Bank in Thrissur. Prior to now, there had been reports linking state CPM leaders to the multi-crore scam in Karuvannur. The ED is likely to extend its investigation to include Kannan, who also serves as the vice president of Kerala Bank, in view of recent developments in the case.
---
11:30 AM: Passenger found dead in train
A passenger was found dead on the Chennai-Mangalapuram train on Monday, September 18. The deceased was identified as Syed Arif Hussain (66), a native of Tulasidar, Gujarat. He had boarded a train from Chennai and had taken a ticket for Kasaragod. The body has been kept at Kannur District Hospital.
---
11:00 AM: Wayanad Suicide Case: Other online loan apps found in Ajay Raj's phone
Ajay Raj, a resident of Arimula, Wayanad, who committed suicide after being threatened by an online loan app, is suspected to have used other loan apps besides Candy Cash. It is reported that Ajay Raj has used other loan apps on his phone. The police informed that a detailed investigation is required in this regard.
Read more: Kerala: Another suicide reported over online loan app in Wayanad
---
10:15 AM: Nipah Virus: Animal Husbandry expert team from Centre in Kozhikode today
The Animal Husbandry experts will conduct a study in the Nipah-affected areas of the districts today (Sep 18). Doctors from the State Institute for Animal Diseases under the State Animal Welfare Department and Kerala Veterinary and Animal Science University will also join the central team
---
9:30 AM: Social activist Girish Babu found dead
Girish Babu, a social activist who fought against corruption, was found dead at his house in Kalamassery. As per reports, he died due to health issues. He was undergoing treatment for health problems. The police reached the spot and started the inquest proceedings.
---
9.06 AM: Panakkad Basheer Ali Thangal injured in car accident
The car that Panakkad Basheer Ali Shihab Thangal was travelling in collided with an electric pole, resulting in injuries. The incident took place on Sunday evening in Balussery Puthoorvattam.
---
8.40 AM: IMD predicts isolated rainfall in 11 districts
In the next 3 hours, IMD has predicted chances of rain at isolated places in Thiruvananthapuram, Kollam, Pathanamthitta, Alappuzha, Kottayam, Idukki, Ernakulam, Thrissur, Palakkad, Malappuram and Kannur districts of Kerala.
---
8.30 AM: Police jeep loses control, rams into nearby shop; Eyewitnesses claim DySP was drunk
A police jeep lost control and rammed into a shop in Pathanamthitta. According to the eyewitness, DySP's vehicle was over-speeding and he was drunk. The accident happened yesterday night while he was on his way to Kottarakara court from Kanjirappalli. He suffered minor injuries. However, the police officials claim that the accident happened when a bike from the opposite direction was given a side to pass by. 
---
8.10 AM: Loka Kerala Sabha: CM, team seek permission from Centre to travel to Saudi Arabia next month
Chief Minister Pinarayi Vijayan and a group of ministers have sought permission from the Centre to travel to Saudi Arabia for the Loka Kerala Sabha starting from October 19 to 22.  The Saudi conference was decided at the same time as the London conference.
Last Updated Sep 19, 2023, 7:45 AM IST