Kerala News Highlights: CM Pinarayi Vijayan extends birthday greetings to PM Modi
Kerala News Highlights: Prime Minister Narendra Modi is celebrating his 73rd birthday today (Sep 17).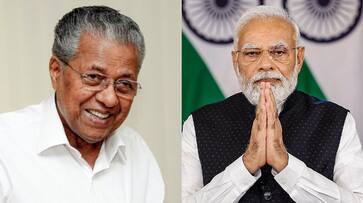 3.45 PM: Teacher dies in bike accident in Malappuram
A man died after his bike rammed into a shop along the Moochikkal Bypass in Valanchery on Sunday at 3 am. The deceased has been identified as  Prasad of Chembra in Pattambi. He taught Physics at a private college in Irimbiliyam in Malappuram.
---
3.15 PM: Taking into consideration the prevailing Nipah virus situation and the instructions of the Kozhikode district authorities, the NITC registrar has informed that immediate restrictions will come into effect in the institute. From September 18 to 23, all classes will be conducted through online mode. Attendance requirements will remain as usual. The timetable will be revised in consultation with the Dean and HOD. The scheduled examinations of UG and PG higher classes have been postponed. The revised schedule will be announced later. 
---
2.30 PM: Nipah outbreak: Karnataka intensifies vehicle checkings on borders from Kerala's three districts; Check details
In the wake of the Nipah virus outbreak in Kerala, Karnataka is inspecting travellers at the Thalappadi check post on the Kasaragod border. The vehicles coming from Kozhikode, Malappuram and Wayanad districts are being closely monitored. 
Read More: Nipah outbreak: Karnataka intensifies vehicle checking on borders from Kerala's three districts; Read
---
2.00 PM: IMD predicts heavy rainfall in Kerala on Sunday; Yellow alert issued in 6 districts
The India Meteorological Department (IMD) has predicted heavy rainfall in the state on Sunday (Sep 17). There is a possibility of heavy rainfall in isolated places across the state. The weather department has sounded a yellow alert in  Alappuzha, Ernakulam, Idukki, Malappuram, Kannur and Kasaragod districts. There is a possibility of high waves and storm surges along the Kerala coast.
Read more: Kerala rain update: IMD predicts heavy rainfall today; Yellow alert issued in 6 districts
---
1.45 PM: Maria Oommen files complaint with DGP over cyber bullying
The daughter of late Congress veteran Oommen Chandy, Maria Oommen, filed a complaint with the Kerala DGP alleging cyberbullying. She also provided copies of the insulting social media posts and remarks. Some left-wing social media accounts posted derogatory messages on their accounts after the Puthuppally byelection. Some posts were later taken down, while some are still accessible to the public.
---
1.15 PM: CM Pinarayi Vijayan extends birthday greetings to PM Modi
Chief Minister Pinarayi Vijayan on Sunday (Sep 17) extended birthday greetings to Prime Minister Narendra Modi. PM Modi turned 73 today. Taking to X, (formerly Twitter), CM tweeted, "Birthday greetings Hon'ble PM @narendramodi ji. Wish you good health and happiness."
---
12.30 PM: Unapproved 70 slaughterhouses operating in Kerala, claims CAG report
According to a report by the Comptroller and Auditor General (CAG), there are 70 slaughterhouses operating illegally in 22 municipal corporations across the state. These slaughterhouses produce about 6.12 tonnes of waste on average. 139 restaurants spill liquid wastes into streams and canals. The study claimed that not even licence renewals for the slaughterhouses were subject to inspections.
---
11.30 AM:  Nipah outbreak: 41 more samples test negative, says Health Minister Veena George
42 high-risk samples that were analysed were found to be Nipah virus-free, which is a huge relief for Kerala. On Sunday, there were no new confirmed cases of Nipah. Health Minister Veena George said that the four patients' conditions are getting better, including that of the 9-year-old kid who is receiving ventilator support.
---
10.45 AM: Nipah outbreak: PSC postpones two examinations scheduled on September 18
In the wake of the Nipah virus outbreak, PSC has postponed two examinations that were earlier scheduled to be held on September 18. The exams for Draftsman Grade-2 (Category 212/2020) and Caretaker-Clerk (Category 594/2022) in the Museum-Zoo department have been postponed. The physical fitness test for the post of Assistant Prison officer that was scheduled to be held between September 20- October 16 in Kozhikode has also been postponed. The revised dates will be announced later. 
---
10.00 AM: West Bengal governor C V Ananda Bose offers special prayer at Chakkulathukavu temple for PM Modi
---
9.15 AM: Aluva murder case: Trial to begin on October 4
At a special court, the trial in the case involving the rape and death of a five-year-old Bihari girl at Aluva in the Ernakulam district in July will start on October 4. Ashfaq Alam, a migrant worker with a criminal record, will be the only accused in the case, which will be heard by Justice K Soman of the special court for POCSO cases. In the case, there are 98 witnesses. More than half of them will go on trial. A translator will assist in Ashfaq's prosecution.
---
8.45 AM: Nipah outbreak: 1,192 people in contact list; Health dept traces 97 people on contact list
The number of people in the contact list has touched 1,192 on Saturday. The health department traced 97 persons in the contact list on Saturday. However, there are no fresh positive cases in the state and the active cases continue to stand at 4.
---
8.25 AM: Nipah scare: Student under observation in Thiruvananthapuram tests negative
In a relief to the capital city, another student who was under observation following fever has tested negative for Nipah virus. Meanwhile, the test results of a 72-year-old, a resident of Kattakada, are yet to come. She developed a fever after her relatives from Kozhikode visited her.
---
8.20 AM: PM Sreenath Namboodiri appointed as new head priest of Guruvayur temple
PM Sreenath Namboodiri (31) of Thekke Vavannur Pottakkuzhi Mana is the new head priest (melsanthi) of Guruvayur Sree Krishna Temple. He has been appointed for a six-month term from October 1 onwards.
---
8.10 AM: Heavy rain to lash Kerala today; Yellow alert in 4 districts
Widespread rainfall is expected in Kerala today. A yellow alert has been sounded in Malappuram, Idukki, Kannur and Kasaragod districts.
Last Updated Sep 17, 2023, 4:53 PM IST