Kerala News Highlights: Widespread rainfall expected in Kerala; Yellow alert in 11 districts
Kerala News Highlights: The IMD has predicted widespread rainfall in Kerala in the next five days.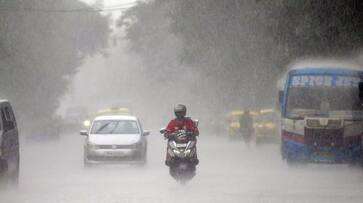 4.30 PM: Delhi University to reopen Malayalam department after 28 years
In a big development, after almost two decades, the Malayalam department at Delhi University is set to reopen soon. The Malayalam department of the university was closed in 1994 when Professor Akavoor Narayanan retired. After 28 years, no other appointments were made, and Malayalam studies also came to a standstill. Dr Sivaprasad, who is also a writer, is the new head of the Malayalam department. 
---
3.30 PM: India to procure more 20 doses of monoclonal antibodies from Australia for Nipah virus treatment
 ICMR DG Rajeev Bahl on Friday said that India will procure an additional 20 doses of monoclonal antibodies from Australia for the treatment of Nipah virus infection. "We got some doses of monoclonal antibody from Australia in 2018. Currently, the doses are available for only 10 patients," he said. 
"Twenty more doses are being procured. But the medicine needs to be given during the early stage of the infection," he said, adding it can only given as compassionate use medicine.
---
2.15 PM: Woman, daughter found dead in well in Kasaragod
A mother and daughter were found dead in a well in Uduma, Kasaragod, on September 15. The deceased were identified as Rubina (30) and her daughter, Anana Maria (5).  It is concluded that she may have jumped into the well with her five-year-old daughter. After they went missing, the shoes were found near the well. Their bodies were recovered by the police and fire brigades. The body was shifted to Kasaragod General Hospital Mortuary. The investigation is in progress.
---
1:45 PM: IMD issues yellow alert for 11 districts
The India Meteorological Department (IMD) issued a yellow alert in 11 districts from Alappuzha to Kasaragod. The Meteorological Centre also said that there is a chance of heavy rain in isolated places. According to the latest notification, there is a possibility of moderate or moderate rain in Kerala for the next 5 days starting on September 14. Rain with heavy thunder and lightning will continue in isolated areas. 
---
12.30 PM:  Customs, Excise officials destroy drugs worth Rs 100 crore in Andaman 
A joint team of Customs and Excise officials from Kerala seized and destroyed drugs worth Rs 100 crore. 50 kg of methamphetamine kept in a bunker on the seashore was seized with the help of locals. It has been found that 4000 kg of drugs in the ship, which was sunk in the sea by the Myanmar drug mafia four years ago, washed up on the Andaman coast. It is alleged that these drugs were being smuggled to Kerala. 
Read more: Drugs worth Rs 100 crore found on Andaman coast destroyed by Customs, Excise officials
---
11.00 AM: Kerala cabinet likely to reshuffle next week
LDF Convenor E P Jayarajan said that the cabinet reshuffle will take place soon. According to reports, legislators KB Ganesh Kumar and Kadannappalli Ramachandran are likely to get a cabinet seat. Veena George could lose her post as Minister for Health and Woman and Child Development.
---
10.30 AM: Malayalam actor Alencier makes 'sexist' remark on female sculpture trophy in Kerala State Film Award
Alencier received a Special Jury Award for his performance in the movie 'Appan'. After receiving the award from the Chief Minister, the actor said, " Don't tempt (us) with this female sculpture.  In a state with a manly chief minister, give us a sculpture with man's strength."
Read More: Malayalam actor Alencier makes 'sexist' remark on female sculpture trophy in Kerala State Film Awards
---
10.00 AM: Kerala yet to recover Rs 28,258 crore revenue arrears: CAG 
According to a report by the Comptroller and Auditor General of India (CAG), Kerala's revenue collection fell by 10 per cent between 2021–2022 and 2017–18, while the Centre's receipts rose. Up till March 2022, there are Rs 28,258 crore in revenue arrears that need to be collected from various departments. This accounts for about 25% of the state's overall revenue.
---
9.15 AM: PWD's construction works without acquiring land incur loss of Rs 54 crore: CAG report
The Public Works Department (PWD) started three construction projects without the required land, according to the Comptroller and Auditor General's (CAG) report, costing the state government Rs 54.08 crore in financial losses. These initiatives include work on the Nilambur and Kothamangalam-Thankalam routes, as well as the construction of a Kalmandapam (stone building) at Palakkad.
---
8.45 AM: Karnataka intensifies border surveillance after Nipah outbreak in Kerala
The Karnataka government has made steps to increase surveillance in its border areas in response to concerns over the Nipah virus outbreak in Kerala. As of now, Kozhikode has four active cases. 
"Setting up check posts for fever surveillance at the point of entry from Karnataka to Kerala. Intensify fever surveillance in the bordering districts such as Chamarajanagar, Mysore, Kodaga, and Dakshin Kannada," a circular from the Karnataka government read.
---
8.30 AM: One more tests positive for Nipah virus in Kozhikode; Total cases surge to 4
A 39-year-old man who was under observation following Nipah symptoms has tested positive today. The total active cases now stands at 4.
---
8.15 AM: Nipah virus: 11 samples' test turn negative; more 30 samples sent for testing
In a major relief to Kerala, 11 samples that were sent for the Nipah virus test have turned out to be negative. The samples of another 30 people on the high-risk contact list have also been sent for tests. In the wake of the Nipah outbreak,  a high-level meeting will be held today under the leadership of ministers Veena George, Mohammad Riyaz, Ahmed Devar Kovil and AK Saseendran at 10 am.  The number of people in the contact list has reached 950.
Last Updated Sep 15, 2023, 6:32 PM IST