Drugs worth Rs 100 crore found on Andaman coast destroyed by Customs, Excise officials
The Customs Preventive and Excise officials from Kerala based on the tip-off of drug smuggling reached the Andaman Islands. In a joint operation, they could recover drugs worth Rs 100 crore and destroy them.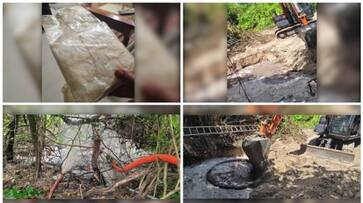 Port Blair: A joint team of Customs Preventive of Kochi and Excise officials from Kerala seized and destroyed drugs worth Rs 100 crore. About 50 kgs of methamphetamine kept in a bunker on the seashore was seized with the help of locals. According to reports, over 4000 kg of drugs in the ship, which was sunk in the sea by the Myanmar drug mafia four years ago, washed up on the Andaman coast. It is alleged that these drugs were being smuggled to Kerala. 
Also read: CAG report exposes glaring lapses and missing crores from Kerala treasury
The drug mafia sank the ship and fled the scene in September 2019 when they knew they would be apprehended by a Coast Guard and navy operation. In Andaman, the drugs that came ashore from the shipwreck have turned into a social issue. Due to the airtight packaging, the chemical ingredients were protected from harm and survived.
Crime branch excise officials arrested three people for transporting intoxicated substances on February 21, 2023, in Manjeri. The arrests of Nishanth (28), Sirajuddin (28) and Riyaz (31) led excise officials to find that drugs had washed up on the Andaman Islands and were being shipped to Kerala via a private courier service.
Based on the information provided by those who were arrested in Kerala, a young man belonging to the tribal community was taken into custody after reaching the Andaman Islands. A joint team found 50 kg of methamphetamine stored by him in a bunker abandoned by the Japanese army on the coast of Malacca, Andaman. The drug was in 25 packets of 2 kg.
Following the information that drugs are widely available in the hands of local residents, the joint team conducted classes at various places with the help of Andaman Collector Hari Kallikat. After this, the local residents returned about 2 kg of MDMA to the district administration.
Last month, excise officials travelled to Andaman to apprehend Mohammed Sabikh (25), the alleged ringleader of the gang who was transporting drugs from the island through courier, however, they were unsuccessful in doing so. The investigation team traveled to Andaman on the orders of Kerala Excise Minister M.B. Rajesh.
 
Last Updated Sep 15, 2023, 2:29 PM IST