Kerala man arrested for driving open jeep with child on bonnet during Onam celebration
A man identified as Harikumar, a native of Kazhakoottam was arrested for driving an open Jeep with a child on the bonnet. A case has also been registered against the child's father for negligent driving during Onam celebration on Tuesday (Aug 29).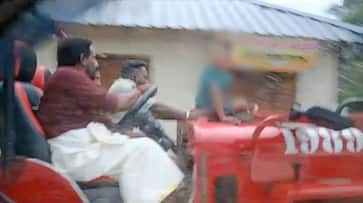 Thiruvananthapuram: In yet another instance of negligent driving, a man was arrested in Kerala for driving an open Jeep while a child, reportedly a six-year-old was placed on the bonnet. Since the incident occurred during the Onam celebrations in Thiruvananthapuram, the video of the same quickly went viral on social media. The incident happened at Thiruvananthapuram's Menamkulam on Tuesday evening. The man was driving while the child was sitting on the bonnet, and there were several other men in the car who were seated farther back than the vehicle could accommodate them. The incident came to light to the police after a passerby took a video and posted it to social media, where it quickly went viral. 
Also read: Kerala: Hiring of helicopter for Rs 80 lakh by govt amid financial crisis sparks controversy
Using the vehicle number shown in the video, the driver of the car was located and detained the same day. Under the IPC 279 (rash driving) and the Motor Vehicle Act 184 (dangerous driving), a case has been filed against the driver. The owner of the vehicle will also face appropriate punishment from the motor vehicle department for unauthorised changes made to it.
The jeep was hired from Attingal for Onam celebrations. The jeep was driven by Harikumar, a resident of Kazhakootam. The son of Soju, who was in the vehicle, was placed on the bonnet of the jeep. The driver allegedly drove at excessive speed several times. A case has also been registered against the child's father for driving in a manner that endangers the life of the child. 
Also read: Kerala earns Rs 759 crores from Onam liquor sale this year
Last Updated Sep 1, 2023, 9:08 AM IST