Kerala govt on spending spree for 'Keraleeyam' event; Rs 4 crore spent on promotion alone
The Kerala government will organise a week-long celebration called 'Keraleeyam' starting on November 1 on the occasion of the state's formation day. The government has allotted reportedly Rs 4 crore for promotions of the event alone.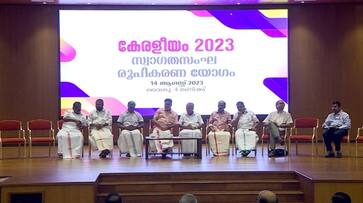 Thiruvananthapuram: Kerala is all set to organise a week-long celebration called "Keraleeyam " on the occasion of Kerala Piravi (Kerala Formation Day) on November 1. The program aims to showcase the rich history and achievements of Kerala and promises to be an extravaganza of culture, knowledge, and festivities.
About Rs 4 crore has been allotted only for the promotion of the large event. From setting up media centers to artificial intelligence avatars, a huge promotion has been prepared. It includes Rs 2 lakh for a counter, Rs 2 lakh for a computer, internet services for Rs 25,000, and accommodation and food for those sitting in the media centre can cost around Rs 11 lakh. For the National and Inter-National Media Desk and associated operations, an additional Rs 3 lakhs has been allocated. The Kerala campaign has received funding through a number of channels, such as online competitions, out-of-box initiatives, and outdoor advertising.
For social media pushing and promotion Rs 30,50,000 alone has been allocated. Also, Rs 15 lakh for digital marketing, Rs 50,000 for Keraleeyam page promotion and Rs 6 lakh for managing Facebook and Instagram have been allotted. 
The motto of this grand event is to highlight the remarkable achievements and awards that have shaped Kerala's history. The celebration that will be organised in the capital city Thiruvananthapuram, is expected to be a memorable spectacle for both residents and visitors.
Special programs will be organized from Kowdiar to East Fort in Thiruvananthapuram. The main attraction of the event will be a series of seminars conducted by renowned professors, experts, and individuals from various departments, shedding light on Kerala's illustrious journey. 25 seminars and 10 exhibitions will be lined up over five days including book fairs and flower shows.
It is hoped that "Keraleeyam " will become an annual tradition, uniting people in the celebration of Kerala's heritage and achievements. As the program unfolds, it promises to be a week filled with enlightenment, entertainment, and a deeper appreciation for the remarkable state of Kerala.
 
Last Updated Oct 27, 2023, 10:17 AM IST