Kerala: Complaints about arrangements at Mar Ivanios College arise
Inmates kept at the COVID observation centre, temporarily set up in Mar Ivanios college in Kerala, complained about several issues they have been facing. The district collector has intervened to rectify errors in arrangements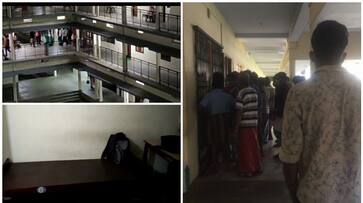 The inmates of the COVID observation centre established in Trivandrum Mar Ivanios College complained about ill treatment by authorities. The inmates alleged that they were forced to live in crowded rooms and were not provided sufficient number of bathrooms
Soon after receiving complaints about the observation centre, the district administration swung into action and tried to facilitate necessary steps to ensure social distancing norms during the observation period. The issue concerning the number of bathrooms is yet to be sorted out.
The inmates earlier had a nightmare when it came to safety during their stay in this COVID observation centre, a temporary arrangement in the college facility. More than 40 people were accommodated in each floor which had only 4 toilets which they had to share. The administration had placed more than 3-4 people in one small room. The district collector visited the facility and made sure that only one person stays in a room. The collector tried to arrange for paid accommodation for quarantine as well.
There were complaints about the lack of medical check-ups after reaching the facility. Many of the quarantined persons live near the quarantine facility, yet they are not allowed to be in quarantine in the comfort of their homes.
Last Updated May 8, 2020, 7:54 PM IST