Kerala: CM Pinarayi Vijayan's helicopter contract sparks controversy amid financial crisis
The helicopter hired for the state's official purposes arrived in Thiruvananthapuram on Wednesday (Sep 20) amid severe financial crisis. The state government signed the agreement with the private company Chipson Aviation under which the helicopter would be rented for Rs. 80 lakh per month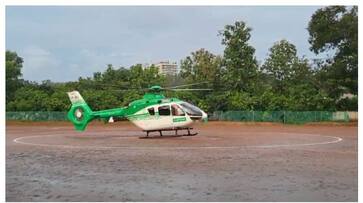 Thiruvananthapuram: The helicopter hired for the state's official purposes arrived in Thiruvananthapuram on Wednesday (Sep 20) amid severe financial crisis. The chopper underwent a series of safety checks, with the inspection conducted on the grounds of the Special Armed Police (SAP) camp. At the same time, the state government signed the agreement with the private company Chipson Aviation under which the helicopter would be rented for Rs. 80 lakh per month. 
The cost of the helicopter for 25 hours of flight will be Rs 80 lakh per month. After 25 hours of use of the helicopter requires an additional Rs 90,000 per hour payment from the government. There is also a provision for a potential extension of the contract for an additional two years.
The decision to acquire a helicopter had previously been put on hold amid widespread criticism, primarily due to the financial crisis in Kerala. 
Along with the pilot, the helicopter has a capacity for 11 passengers. The helicopter is brought for police activities including Maoist monitoring and operations in disaster areas, it claimed. However, the government's decision to rent the helicopter during the state's economic difficulties has drawn harsh criticism from the Opposition.
Earlier, the Opposition leader V D Satheesan highlighted the Chief Minister's hypocrisy by claiming that while the latter argues for cost-cutting, he himself is incurring significant expenses. If they are honest in what they are doing, Satheesan further urged them to back out of the plan. Kerala, according to the Congress leader, is experiencing its worst financial crisis ever. Even funding for daily expenses is beyond the reach of the government. A helicopter is being rented for the Chief Minister's trip in this instance as well, at a monthly cost of Rs 80 lakh. At the Treasury, even cheques worth Rs. 5 lakh are not redeemable. The Chief Minister is leasing a helicopter under these circumstances.
Last Updated Sep 20, 2023, 10:56 AM IST