Kerala: CM Pinarayi Vijayan inaugurates Nava Kerala Sadas at Kasaragod
Kerala Chief Minister Pinarayi Vijayan inaugurated the Nava Kerala Sadas at Kasaragod today. The CM and ministers were received on the stage wearing turbans.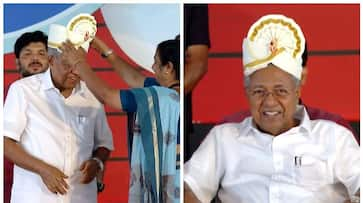 Kasaragod: The Kerala government's Nava Kerala Sadas has started in Kasaragod. The inauguration was done at Manjeshwaram constituency. The Chief Minister and ministers arrived at the Kasaragod guest house and reached the inauguration venue in a new luxury bus. The CM and ministers were received on the stage wearing turbans.
The Nava Kerala Sadass, set to be held across all 140 constituencies in the state, is designed to convey the government's developmental accomplishments and upcoming initiatives directly to the public. This initiative aims to facilitate meaningful interaction between the government and the people, fostering a channel for communication and engagement regarding the state's progress and future plans. After completing the programs in various districts, the Nava Kerala Sadas will be concluded on December 23 at 6 p.m. in Thiruvananthapuram. The United Democratic Front (UDF) is boycotting the program, alleging that it is profligate amid the financial crisis.
Read: Nava Kerala Sadas: Know the features of luxury bus provided to CM Pinarayi Vijayan, ministers
The organising committee was asked to have at least 5000 people for each assembly. The government has already given instructions to complete the grievances before the cabinet in a timely manner. The purpose of the program is to convey the achievements of the government to the people and to receive suggestions for future development. 
The UDF has also decided to organise Janavanchana Sadas as an alternative to the Nava Kerala Sadas. The journey began in the luxury bus worth Rs 1.05 crore for the chief minister and ministers.
 
Last Updated Nov 18, 2023, 4:58 PM IST