Kerala BJP chief K Surendran hits out at UDF's reluctance to condemn Udayanidhi's remark on 'Sanatana Dharma'
Tamil Nadu minister Udayanidhi Stalin's remark on Sanatana Dharma had courted controversy. Several political leaders and Hindu organisations have condemned the DMK leader's statement.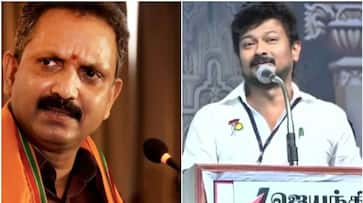 Thiruvananthapuram: Bharatiya Janata Party (BJP) state unit chief K Surendran on Tuesday (Sep 5) lashed out at the Congress for their hesitation to condemn the statement made by DMK leader and Tamil Nadu Minister Udayanidhi Stalin on 'Sanatana Dharma'. He said that the Congress has adopted an approach that disappoints the people of the country. Surendran also alleged that the silence of Rahul Gandhi and Kerala Congress leaders on the statement of Udayanidhi Stalin and Karthi Chidambaram is an example of their anti-Hinduism approach.
Congress General Secretary KC Venugopal was the first member of the Congress to respond to Stalin's statement that "Sanatana Dharma should be eradicated" during a press conference on Monday in Delhi. He stated that we believe in "Sarva Dharma Samabhava" and that we respect everyone's beliefs. However, Surendran hit out at Venugopal's statement that everybody has the right to express their opinion. He asked the Opposition leader V D Satheesan and KPCC Chief K Sudhakaran to clarify whether KC Venugopal's opinion is the same as that of the Congress in Kerala.
The BJP leader said, " Is the Congress afraid of the Muslim League and Jamaat-e-Islam? If anything is done to the majority group, does Congress wish to claim that it is not a problem?" Surendran argued that Congress' position is disloyal and criminal.
In a recent statement that has stirred controversy, Udhayanidhi Stalin, the son of Chief Minister MK Stalin, made a striking analogy during a conference addressing Sanatana Dharma. He equated Sanatana Dharma to diseases like malaria and dengue, emphasizing that it should not merely be opposed but eradicated.  He commended the choice of the conference's title, "Eradicate Sanatana Dharma," highlighting the need for a proactive approach.
Drawing parallels with diseases that require eradication rather than opposition, Udhayanidhi Stalin mentioned mosquitoes, dengue fever, malaria, and even the recent COVID-19 wave. He stated that Sanatanam, derived from Sanskrit, denotes permanence and resistance to change, which he believes contradicts principles of equality and social justice.
Last Updated Sep 5, 2023, 2:31 PM IST