Kerala: Alappuzha passengers stage protest over trains getting delayed due to Vande Bharat Express
The newly-designed second Vande Bharat Express allotted to Kerala was officially flagged off by Prime Minister Narendra Modi via video conferencing on September 24. The new train would pass through Alappuzha, whereas the earlier one went through Kottayam.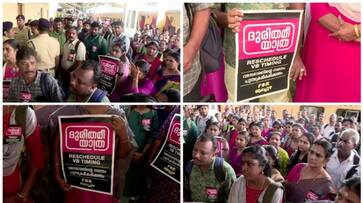 Thiruvananthapuram: Alappuzha: Passengers on the Alappuzha route are protesting by donning badges in opposition to the lengthy delays of other trains for the Vande Bharat Express. On the Alappuzha-Ernakulam route, the strike has been ongoing since the morning under the direction of Friends on Rail (FOR), a WhatsApp network of over 5,000 train commuters between Ernakulam and Thiruvananthapuram. According to passengers, Vande Bharat running behind schedule causes delays in the trains of up to an hour on some days. They claim that as a result, they are unable to arrive at workplaces and educational institutions on time. 
The Ernakulam-Shoranur-Kayamkulam section, where there is only one line connecting Ambalapuzha and Ernakulam, is where trains are most frequently held up.  
Additionally, the organisation complained to the railway authorities, pleading for an acceptable solution to the issue. Passengers are protesting by wearing a badge that reads, 'Durithamee Yathra' (this journey in distress).
Trains including Intercity, Palaruvi, Rajdhani, and Ernad, among others, are reportedly 45 minutes late for Vande Bharat.
Following the Venad Express's change of its departure time from 5.05 a.m. to 5.25 a.m., several passengers in Thiruvananthapuram protested. The abrupt rescheduling is allegedly causing regular passengers significant inconvenience, according to a number of complaints. The 6.05 p.m. departure of the Kayamkulam Express from Ernakulam has been delayed by 40 minutes. Other trains experiencing delays include the Janashtabdi and the passenger train between Nagercoil and Kottayam. However, the railway authorities claim that the reason the trains are running late is for maintenance.
Last Updated Oct 20, 2023, 12:07 PM IST