KEA scandal re-run: Why did Jyoti Niwas college in Bengaluru conduct SDA exam with closed CCTV?
Allegations of impropriety emerge in Bengaluru's KEA SDA exam, with concerns over a deactivated CCTV camera possibly facilitating irregularities. Students question the camera's sudden inoperability, raising doubts about the KEA examination process's integrity, following recent examination irregularities in Yadagiri.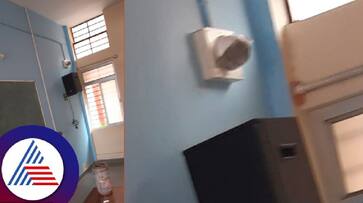 In the aftermath of the recent Yadagiri KEA examination irregularities, new allegations of impropriety have surfaced within the Karnataka Examination Authority (KEA) examination, this time in Bengaluru, the state capital.
These allegations revolve around the KEA SDA (Second Division Assistant) exam, held at Jyoti Niwas College Degree Block in Koramangala on the 29th of the month. The heart of the matter concerns the closure of the CC camera located inside the examination hall, a development that has garnered significant attention on social media. There are growing concerns that the camera might have been intentionally turned off to facilitate exam irregularities.

KEA Bluetooth scam: RD Patil, key of PSI malpractice accused as kingpin; check details
During the examination, the closed-circuit television (CCTV) camera, a critical component for ensuring transparency and preventing misconduct during competitive exams, was reportedly not operational. When students questioned the college staff about this issue, they were informed that the CCTV camera had been damaged. 
This raises the question of why the status of the CCTV camera was not checked before the examination. Allegations strongly suggest that the CCTV camera was not genuinely damaged but was intentionally deactivated to facilitate irregularities during the exam.

KEA Bluetooth scam: Was there a deal made with over 300 Kalyan Karnataka candidates? Read this
The students have expressed serious concerns over the potential for exam irregularities. Especially since competitive exams for various government departments mandate the presence of functioning CCTV cameras to maintain the integrity of the examination process and deter any illicit activities.
This incident comes against the backdrop of the Karnataka Examination Authority's organization of the competitive examination to fill vacancies in various Corporation Boards. It follows a previous scandal in which individuals attempting to use Bluetooth devices during the exam were apprehended in Kalaburagi and Yadgiri. The exposure of irregularities at Jyoti Niwas College in Bengaluru has sent shockwaves throughout the state, casting doubt over the KEA examination process.
Last Updated Oct 31, 2023, 3:42 PM IST