Karnataka school staff did not dance, clarifies minister Suresh Kumar
Karnataka education minister Suresh Kumar jumped the gun and slammed government school teachers for dancing inappropriately. However, he clarified that it was not school staff, but members of an organisation whose dance video had gone viral.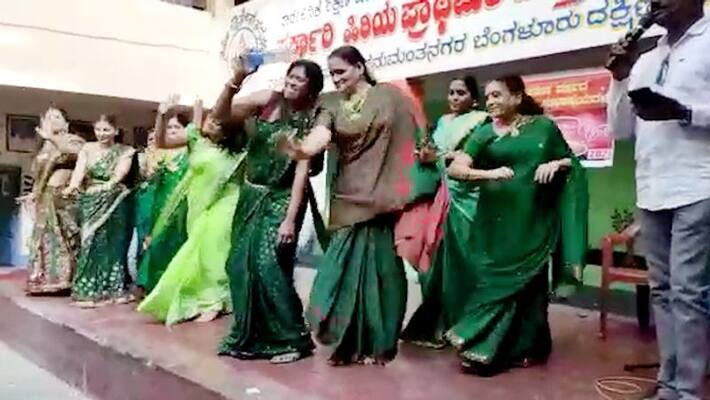 Bengaluru: The video of teachers dancing to a Kannada song at a government school in Bengaluru created a huge controversy with Karnataka education minister Suresh Kumar taking note of it and reprimanding the teachers.
However, a day after the video went viral, Suresh Kumar clarified that the video which had gone viral and had a group of women dancing to a Kannada song, had nothing to do with the school staffers. A women's organisation had arranged a New Year's party in the school premises and at the end of the programme, the members of the organisation danced.
Also watch:  Dancing video of Karnataka govt school teachers go viral, draws criticism from education minister
Suresh Kumar clarified and said, "The video has been misinterpreted as people thought the school headmaster and staff participated in it. Members of a women's organisation approached me and submitted a confession letter. They accepted responsibility for what happened."

As the video went viral, Suresh Kumar slammed the behaviour of women and issued a notice to the school teachers for inappropriately dancing in front of students and had said necessary action would be taken against them.
However, it was later confirmed that the women in the video weren't teachers of the Government Higher Primary and Secondary School in Sunkenahalli, Hanumanthnagar, but members of a local NGO called Spoorthi Mahila Mandal which conducted a meeting in the school premises on January 11 between 2pm and 4pm.
The NGO has helped in the development of the school for the past 25 years and has built toilets, stage and provided 100 chairs.
Kumar had said that teaching is a noble profession and if the teachers did want to dance, they could do so privately.
The notice was sent to the school's administrative head on Tuesday. As Wednesday was a holiday, block education officers were to investigate and submit a report on Thursday. Kumar, however, issued the notice without waiting for the report. 
Last Updated Jan 17, 2020, 2:31 PM IST