Karnataka politics: I have no aspirations of becoming deputy chief minister, says minister KS Eshwarappa
Karnataka Rural Development and Panchayat Raj minister KS Eshwarappa stated that he does not aspire to be the deputy chief minister of Karnataka and has no plans of obtaining the post.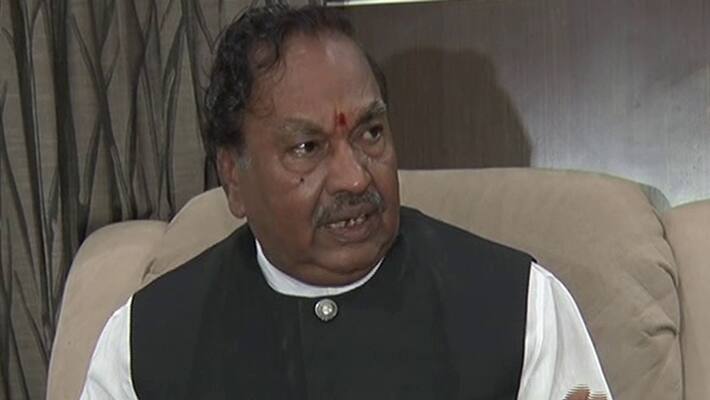 Shivamogga: The Cabinet expansion has been causing a new headache for Karnataka chief minister BS Yediyurappa. While he seems to be unable to decide on which MLA needs to be inducted as ministers in the Cabinet, another dilemma has risen within the saffron party in Karnataka.
The saffron party received a huge boost with its win in Karnataka bypolls, where the ruling BJP government was hanging by a thread tied to the by-elections held in 15 Assembly constituencies.
However, Yediyurappa has been plagued with the challenge of accommodating the demands of the newly elected MLAs for Cabinet berths while balancing the wishes of the other BJP leaders. Now according to reports, lobbying for deputy chief minister's post (DCM) is on the rise in the Karnataka government.
Karnataka health minister B Sriramulu's recent visit to New Delhi on January 3 set off speculation that he was lobbying for the post of deputy chief minister.
Since the 12 rebels won the Karnataka bypolls, Yediyurappa has been under massive pressure to create two more DCM posts and accommodate the MLAs from Gokak, Ramesh Jarkiholi, and another leader.
However, minister of Rural Development and Panchayat Raj of Karnataka KS Eshwarappa stated that he is not interested in the deputy chief minister's post.
Eshwarappa said, "No matter what happens, I won't take over the post of deputy chief minister. I'm not aspiring for the post nor do I ever want that post."
Speaking to reporters in Shivamogga, KS Eshwarappa further added, "there are already three deputy chief ministers in the state while a few more are aspiring for the post. Also, there are reports that the DCM's post would be scrapped. So, the party seniors and high command will take a decision in this regard."
Reacting to former CM HD Kumaraswamy's statement about BJP leaders jumping ship to JD(S), Eshwarappa stated, "Kumaraswamy should first concentrate on what is happening in JD(S) and try to save those who are in his party. It would be good if he concentrates on his leaders rather than commenting about BJP leaders."
After taking a dig at HD Kumaraswamy, Eshwarappa said, "BJP leaders are like tigers. We will complete the tenure under BS Yediyurappa's leadership. We don't want any more leaders from other parties to join us as we are overloaded now. If leaders from Congress and JD(S) join BJP, where should our leaders go?"  
Last Updated Jan 9, 2020, 4:20 PM IST