Karnataka: Pejawara Sri Vishvesha Teertha hospitalised as he complains of breathing problems
Pejawara Sri Vishvesha Teertha has been admitted to the Kasturba Hospital as he is suffering from serious health problems.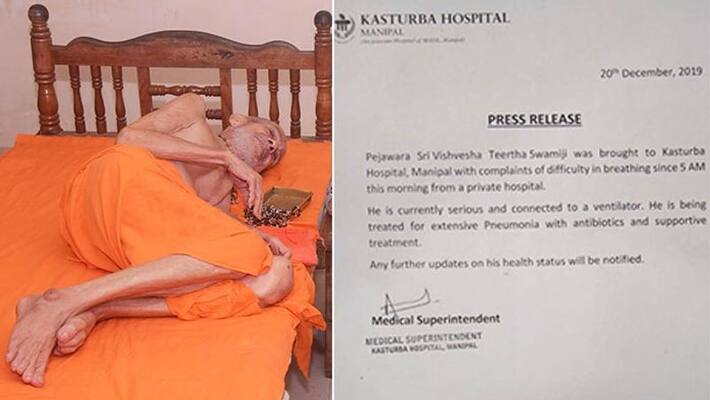 Bengaluru: Pejawara Sri Vishvesha Teertha, a saint of the Udupi Mutt, known for his phenomenal contributions to the society has been admitted to Kasturba Hospital, Manipal. 
He was rushed to the hospital this morning at 5 as he complained of massive breathing problems. 
A press release by the hospital authorities states that his condition is serious and he is on a ventilator support. It also adds that he is being treated for extensive Pneumonia with antibiotics and supportive treatment. 
He was born in 1931 at Ramakunja to a Shivalli Madhwa Brahmin family and his pre-sannyasa name was Venkatrama. 
He was given Sanyasa vows at the young age of 8 years in 1938. His vidya guru is Shri Vidyamanya Tirtharu of Shri Bhandarkeri Math, and Shri Palimaru Math also. He has appointed Shri Vishwaprasanna Tirtha, as his successor sanyasi Swamiji of Shri Pejawar Mutt.
Last Updated Dec 20, 2019, 12:42 PM IST