Karnataka: NSUI stages protest over Christ University going ahead with online exams
Christ (Deemed to be) University drew flak for conducting an online examination for the intermediate semester students today.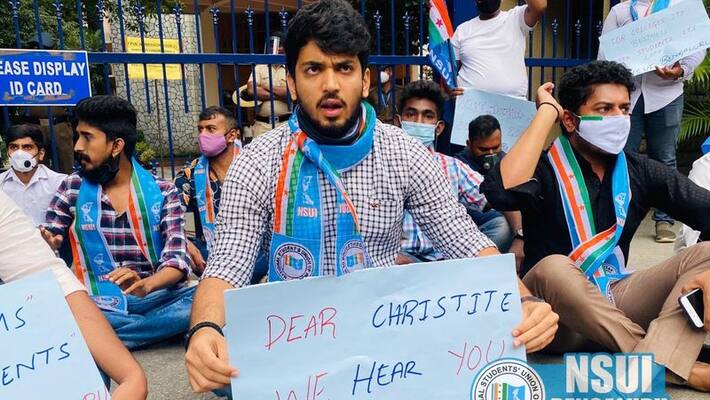 Bengaluru: Christ (Deemed to be) University conducted an online examination for the intermediate semester students on Monday (July 13).
Members of the National Students' Union of India (NSUI) staged a protest in front of Christ University on Monday (July 13) opposing the university's move to hold semester-end examinations online for all students except for those in the final year.
The activists held placards that read "Stop exams, save students." On Friday, the Karnataka government announced its decision to conduct final semester exams before the end of September.
However, the government said that the intermediate semester students pursuing degree and post-graduation courses including engineering, and diploma courses for the academic year 2019-2020 will be promoted without examinations.
Students complained that the state government directive to universities in Karnataka about cancelling exams for non-final year students, did not apply to Christ University, by virtue of its title 'deemed to be university'.
According to a report in the New Indian Express, the university had collected Rs 500 fee for the online examination, in addition to the exam fee that was paid earlier. Although there is no written communication to say it is mandatory to pay the fees and take the exam.
UGC guidelines in April specify that institutes should evaluate students based on previous marks.
The university has also decided to hold offline exams too in the days to come and those who did not opt for online exams can appear for those eventually.
Last Updated Jul 13, 2020, 3:23 PM IST