Karnataka MLA Renukacharya in trouble for driving KSRTC bus once again
MP Renukacharya, Honnali MLA, has landed in a controversy by driving a bus for 5-6km. This is the second time the MLA has landed in trouble for the same reason.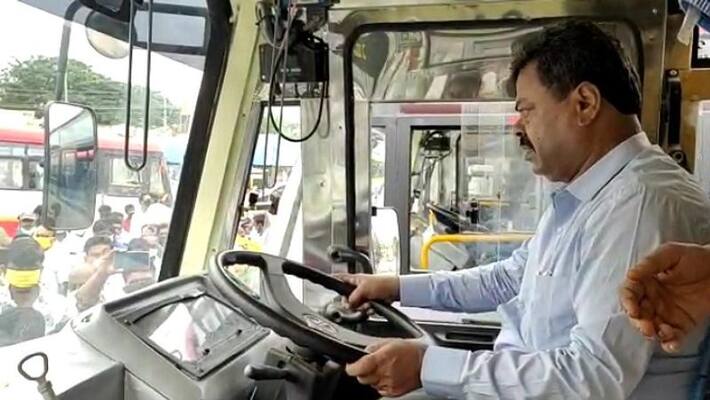 Davangere: Honnali MLA MP Renukacharya is in the news once again for the wrong reasons.
The MLA was found driving a public bus for close to 5-6km during the inauguration of brand new buses in a bus depot.
The MLA was invited to inaugurate 6 new buses which were setup in the Honnali bus depot.
Taking the inaugural ceremony as a chance to drive a bus, the MLA drove the bus for almost 5-6km on a main road with citizens around.
Activists in Honnali have shown their resentment towards Renukacharya's dangerous act.
Aslo read:  Karnataka drug scandal: Casinos owned by Kannadigas in Sri Lanka under scanner
This is not the first time MP Renukacharya has done something so dangerous.
Back in January Renukacharya landed in a controversy by driving a KSRTC bus with more than 40 passengers on board for a distance of 50 kilometres in Shivamogga.
Following the incident in January, the manager of KSRTC Shivamogga division had issued a show-cause notice to the Honnali depot manager for allowing an unauthorised person to drive the vehicle.
Considering the incident as a serious lapse, the KSRTC divisional manager had asked the depot manager whether the person had a valid driving license.
Despite all the controversy that happened in January, the MLA has repeated the same once again. 
Last Updated Sep 15, 2020, 10:25 AM IST