Karnataka: MLA KM Uday emphasises his support towards DK Shivakumar in case of CM change becomes necessary
Karnataka MLA KM Uday addresses potential leadership changes in the Congress party, supporting DK Shivakumar for CM. He highlights the neglect of town development and vows to secure government grants for its progress. The event includes the presence of various political figures and leaders.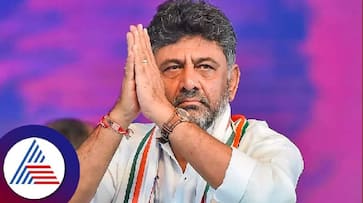 Karnataka MLA KM Uday, in response to media queries regarding potential leadership changes and factional politics within the Congress party, reiterated that the ultimate decision would be in the hands of the party's high command. He also expressed his support for senior Congress leader DK Shivakumar in case the CM change becomes necessary in the state. 
Highlighting the prevalent factional politics and the ongoing discourse about the possible change in the positions of Chief Minister and Deputy Chief Minister, MLA KM Uday emphasized his endorsement of DK Shivakumar. He underlined Shivakumar's extensive service as the president of the Karnataka Pradesh Congress Committee (KPCC). Nevertheless, he clarified that the party's high command would make the ultimate determination regarding this matter.

Karnataka: Union Minister Pralhad Joshi accuses Congress govt of injustice on water issues
MLA KM Uday also voiced his concerns about the town's developmental issues. He alleged that town development had been disregarded since the tenure of former Chief Minister SM Krishna. During Krishna's leadership, vital initiatives, including the Cauvery drinking water project, drainage system establishment, government office construction, and irrigation projects, were executed. In an indirect critique, MLA KM Uday pointed out that the neglect of development occurred during the tenure of former MLAs D.C. Tammanna and Kalpana Siddharaju.
Consequently, the town needs to catch up in development, falling nearly two decades short. MLA KM Uday pledged to secure necessary government grants and prioritise town development in the days ahead. The event also saw the presence of KPCC member Kadalur Ramakrishna, municipal council members Sachin, Siddaraj, Manoj, Kokila Aruna, Priyanka, Pramila, former president MC Basavaraju, Imtiaz Ullakhan, District Congress Vice President Hombayya, and leaders Siddaraj and Avinash.
Last Updated Nov 3, 2023, 1:02 PM IST